Lady Gaga & Perez Hilton's Feud Heats Up As She Accuses Him Of Stalking Her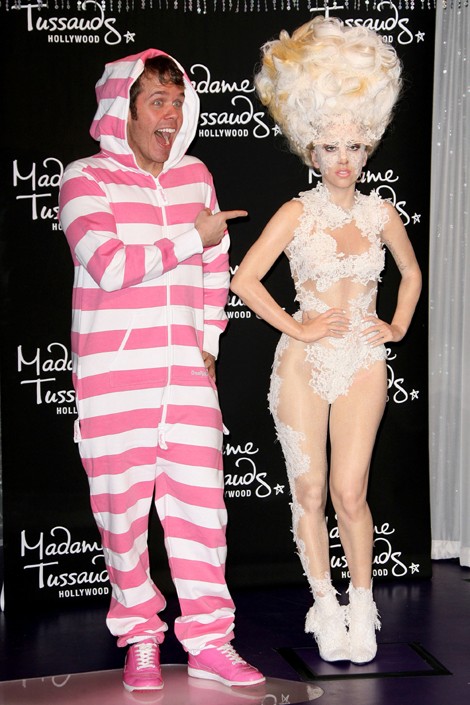 Lady Gaga is accusing her former pal Perez Hilton of stalking her. The former BFFs are embroiled in a feud (for undisclosed reasons), and the pop star is accusing the celebrity blogger of attempting to rent an apartment close to hers in New York City.
On Sunday, a fan alerted Gaga that Hilton was spotted in her building. The singer told security and then tweeted: "Perez Hilton stay away from me (and) my family you are sick trying to rent an apartment in my building to stalk me. Leave me alone! I have confirmation from the building he was there."
She later added, "Do I need to be shot it in the head for people to understand that him and everyone else that harasses me has gone too far? I'm a human being."
The pair became friends at the start of her career, but for unknown reasons they've had a falling out. Hilton recently criticized Gaga's new song "Applause" and as a result has been receiving hate male from Gaga's fans, known as her Little Monsters.
He posted: "My heart hurts that my former very good friend Lady Gaga, a person I used to call my 'wifey' and travelled the world with, is making very public and very untrue allegations about me on Twitter. While it is still too painful for me to go into detail about why I chose to no longer make her a part of my life, I will say that I am a critic and not a stalker. Any allegation that I am stalking her is utterly false, defamatory and now appear to be putting me in danger... As the suggestion that I pose a danger to Gaga is preposterous, if fans want to send a message of support to her, they should buy her music instead of sending me death threats."
Last week Gaga claimed that Hilton sent her a nasty text message after she had surgery for a hip injury.  Her fans responded by attacking the blogger with nasty messages.
Gaga asked her fans to ignore him instead. She wrote: "Do not be affected by someone like this NOTHING merits this kind of hatred. I'm OK & I always survive. Ignore him. Just Dance."
 
The pop star is currently promoting her upcoming album ARTPOP, which drops in November. She just released the video for her latest track "Applause."