Lady Gaga Makes Time To Sign Copies Of New Album 'Born This Way' For Fans In NYC (Pics)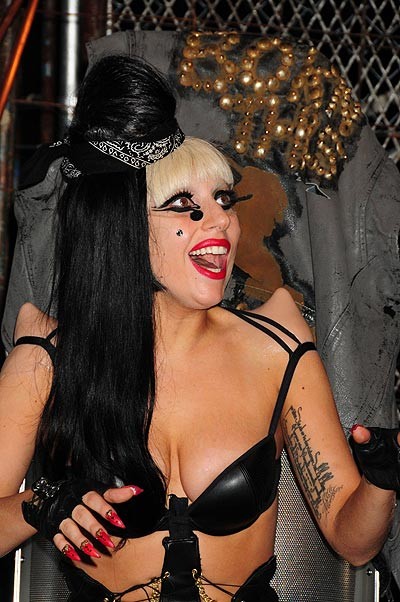 Lady Gaga made an in-store appearance to promote her new album "Born This Way" at Best Buy in New York City on Monday wearing a barely-there black leather & gold chain outfit with fishnets and black thigh-highs and a pair of her trademark heel-less high heel black lace-up stripper boots.

Gaga's schedule has been packed full with promoting the new disc in NYC for the last few days, beginning with an appearance as the musical guest on Saturday Night Live and shooting funny new spoof music video "3-Way (The Golden Rule)"  with Justin Timberlake and Andy Samberg for the show.
"Justin's so cool and he's so great. I was laughing. I needed a diaper on set. I was peeing my pants... It's painful how funny they are," she says.
She also had guest spots on The View and the Late Show With David Letterman; the latter of which saw her literally eat the host's cue card.
The singer also answered some fan questions via her Twitter page recently, and also explained what each track on the album means.

"It's hard choose my favorite song on the album. 'Marry The Night,' 'Government Hooker,' 'Heavy Metal Lover,' 'Sheibe.' I can't choose!" she writes.

As for the songs on the album, here's what she says about each one...

"'Black Jesus' was Justin Timberlake's favorite. Its about how putting on a new spirit is as easy as putting on fashion. Amen."

"'Bloody Mary' is about living halfway between reality and fantasy."

"'Fashion of His Love' is about Alexander McQueen."

"'Highway Unicorn' is about me. Flying down the road, with nothing but a dream."

"I went to a dirty party in Berlin, and wrote 'Sheibe' the next day. It's about wanting to be bad without permission. Sh*t."

"'HEAVY METAL LOVER' is about 'tonight bring all your friends, because a group does it better.'"

"'AMERICANO' is what the American dream means to me. #LipstickRevolution"

"I wrote 'HAIR' about how my parents used to get pissed at my outfits and my hair when I was a kid."

"I wrote 'Marry The Night' about having a good time in NY with my friends, and how I would never be a Hollywood girl."

"wrote 'YOÜ and I' in 10 minutes on the piano I learned on in NY. A boy dared me to write a hit. Brian May [Queen] played guitar on it!"

"'Government Hooker' was inspired by Marilyn Monroe + political mistresses. I wonder what they were privy to + what they affected."

"I started writing 'Born This Way' in Manchester + Liverpool. I knew it had to be the first single. It still gets me every time."

"'Bad Kids' is inspired by stories many monsters shared with me on the road. I wanted a song to tribute their stories. ImABadKidToo"

"I began writing 'Electric Chapel' in Australia. I finished it in Europe on my tourbus. Its about needing to feel safe to find love."

"'The Queen' is about bravery. Being unafraid to be great."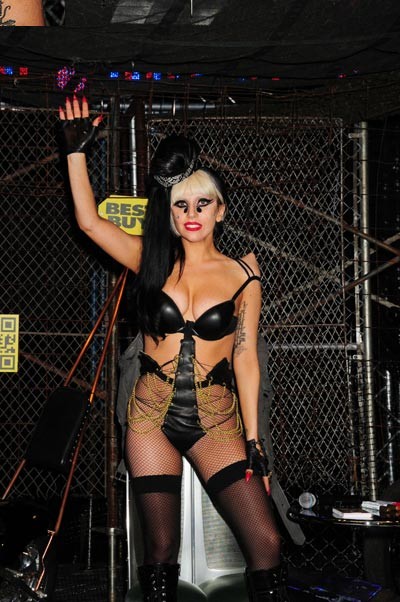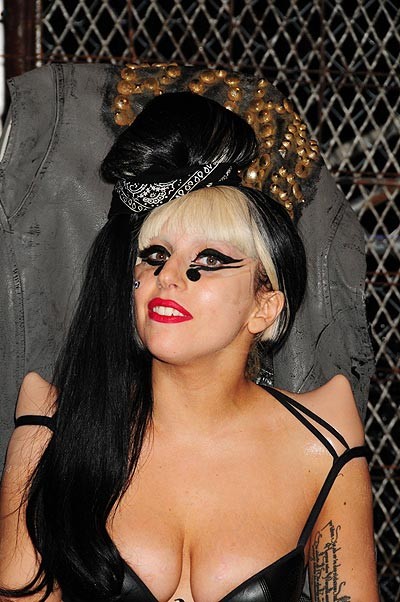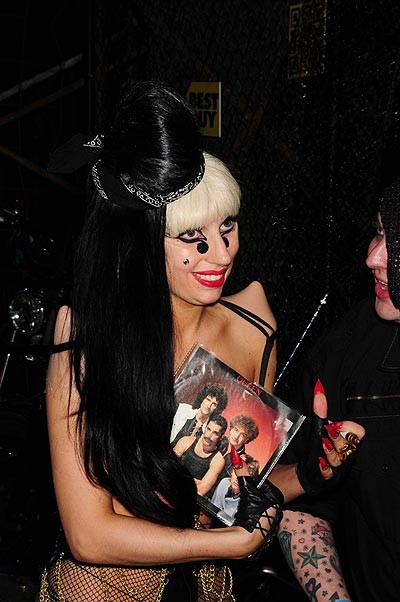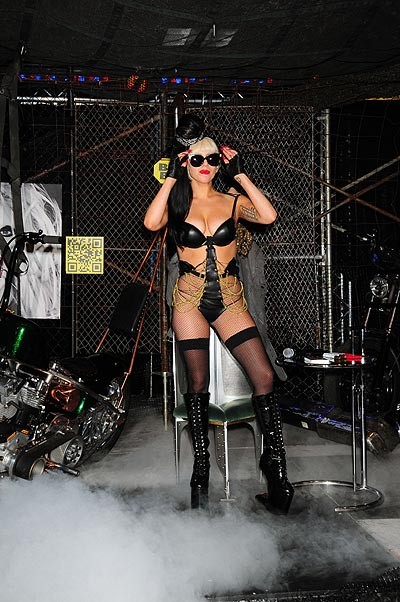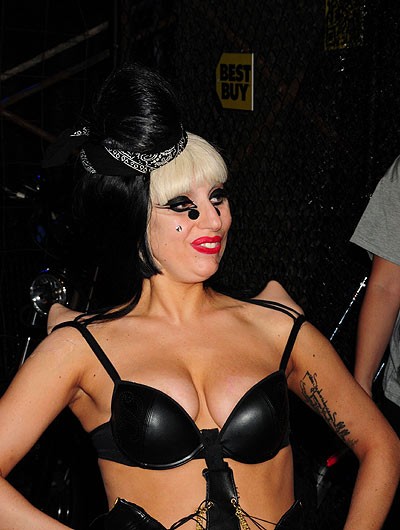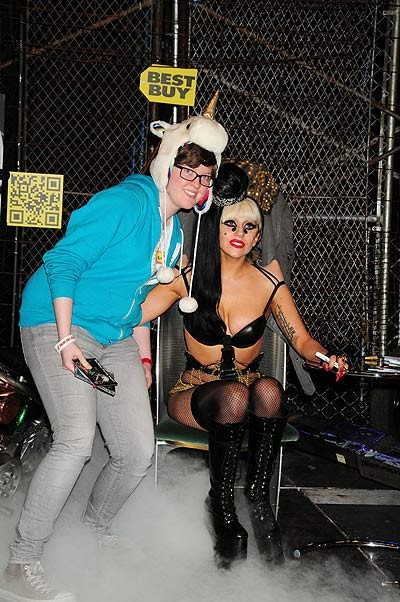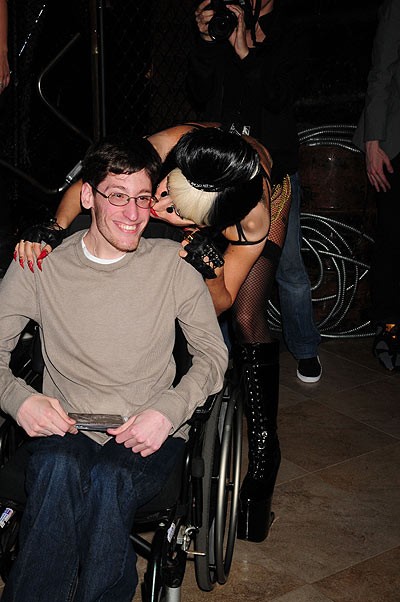 Her outfit reminds us of this one for some reason: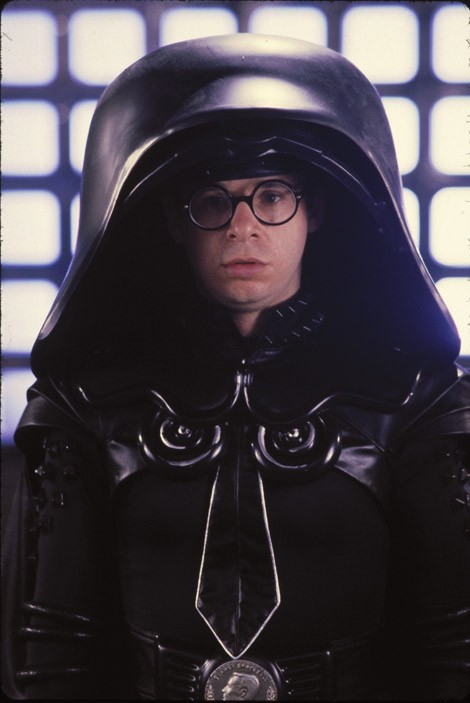 Latest Lady Gaga headlines:
• Lady Gaga Plays Across Belgium Metro
• Lady Gaga Eats David Letterman's Script (Watch It!)
• Lady Gaga's New Album 'Born This Way' Is Out Now - Win A Copy Of the Deluxe Edition!
More Lady Gaga news & articles