Lady Gaga Inspired Art Is Now Being Featured At The Louvre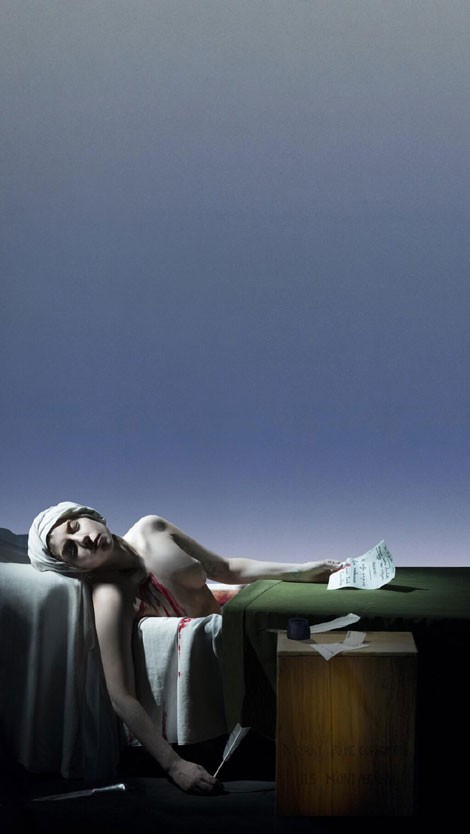 Lady Gaga is featured in an art installation by Robert Wilson in France's famous Louvre museum. The theatre director/artist included paintings and video of the singer as part of his Living Rooms exhibition in Paris.
Wilson recreated Jacques-Louis David's famous painting "The Death of Marat" with Gaga as the subject.  She explained the project on her website Littlemonsters.com: "It will take a while for the concept of ARTPOP to catch on... Instead of the painter painting 'me,' (like Warhol printing Marilyn) I am painting (performing) the painting. I am not on the canvas I am part of it. This is ARTPOP."
The pop star was also filmed hanging upside down naked and tied up in rope for a performance art video.
Gaga wrote: "I did this piece (in) London. Bob Wilson filmed it. I hung upside down for 45 minutes in this position. This was the first piece he allowed me to do myself. I'm discovering my passion in performance art is seance. Allowing old souls to pass through me. While I suffer for their art, and leave mine and my vanity behind. This is how I can be vehicle for my monsters all over the world."
The singer is very pleased with her inclusion at the Louvre. She tweeted earlier this week: "I know my artiness + musical goals may seem lofty, but there is a pop star in the Louvre, right next to the Mona Lisa."
Gaga has collobarated with several famous artists while promoting her latest album, "ARTPOP," including Jeff Koons who made a naked sculpture of the singer for the album's cover.