Lady Gaga: 'I Would Like To Do A Bollywood Film'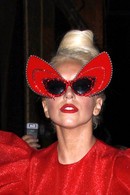 Pop sensation Lady Gaga is eager to land a role in a Bollywood movie.

The Poker Face hit-maker travelled to India in October to perform her first show in the country and she mingled with actors Shah Rukh Khan and Arjun Rampal during the visit.

The trip so inspired Gaga, she wrote in a post on Twitter.com, "Screw Hollywood - it's all about Bollywood" - and now she wants to land a role in a movie.

She tells Britain's The Sun, "I recently saw a Bollywood show in Paris and my interest in India has piqued. I would like to do a Bollywood film. I am fascinated by the dance and the clothing."

And to win over fans in the nation, Gaga is planning to host a free gig there in the near future: "I am so inspired by the country. Its music, styles and countryside. I want to do a free show for all my fans the next time I visit."