Lady Gaga Gets Tattoo During Perfume Launch; Asks People To Watch Her Sleep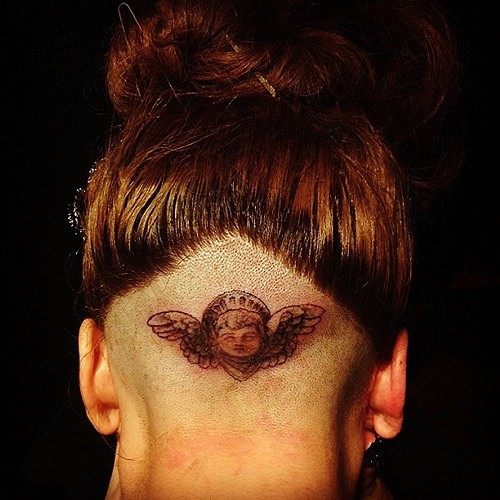 Lady Gaga definitely knows how to put on a show - whether at a concert or a perfume launch. On Thursday night the pop star launched her debut fragrance, "Fame," while inside a giant replica perfume bottle.
After she arrived at the event in a convertible, attendees at the Solomon R. Guggenheim Museum on New York's Upper East Side took photos of the singer wearing a black sparkly blouse, black skirt and red wig inside the transparent glass bottle.  She applied make-up and played with an iPad while music (such as David Bowie's "Fame") played in the background.
Gaga called her performance "Sleeping With Gaga" and invited fans to put their hands inside the bottle and touch her while she "slept."
She later emerged from the bottle wearing lingerie and proceeded to have a tattoo of a winged cherub inked on the back of her head. Earlier this week she shaved some hair in honor of her photographer friend Terry Richardson, whose mother just died.
A few hundred people attended the event, and many wore masks or covered their faces. Celeb guests included Yoko Ono, fashion designer Marc Jacobs, and Lindsay Lohan.
"Fame" is named after Gaga's multiplatnum 2008 album debut, "The Fame." She has since released two consecutive albums: "The Fame EP" and "Born This Way."