Lady Gaga Gets Roasted On A Spit, Performs With 'Vomit Painter' At SXSW - See The Video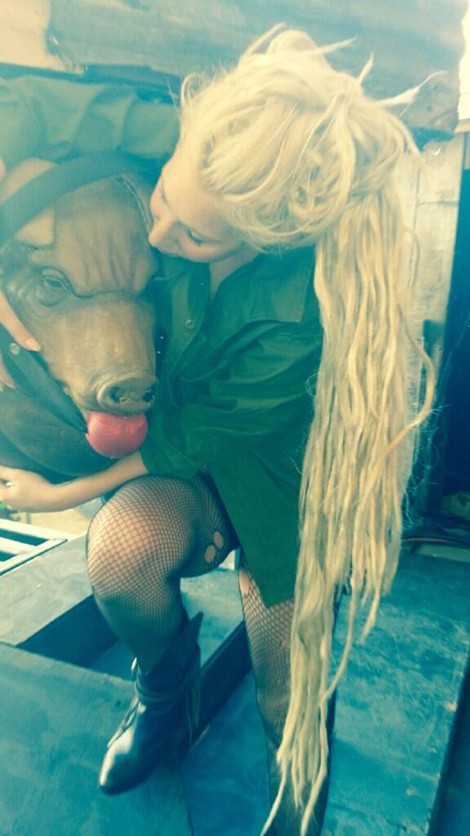 Lady Gaga made quite an impression at the South by Southwest (SXSW) Festival in Austin, Texas, on Thursday night. The pop star roasted herself like a hog on a spit and subjected herself to a "vomit painter."
Prior to her performance, Gaga posted a photo on Twitter of herself holding on to a fake pig with the caption: "SNEAK PEAK PIC Backstage with my little friend."
About 2,000 fans attended her gig at Stubb's BBQ restaurant, which kicked off with a woman seductively eating barbecued sausages.
Dances slathered the singer, who was wearing a blonde wig and black bikini, with barbecue sauch as she roasted on a spit. Then the singer invited performance artist Millie Brown to join her on stage.
During the song "Swine," Brown swallowed green liquid and then threw it up on stage and on Gaga. At one point, the pair climbed on a mechanical bull-like pig and bucked in circles as Gaga played the keyboard. Brown then vomited black liquid onto the singer.
Gaga later added some heartfelt words during the bizarre performance. She told the crowd before launching into her song "Dope," "It's so much easier to be yourself than it is to be somebody else. Because then you have to pretend to be someone else and like things that you don't like and do stuff that you don't want to do."