Lady Gaga Dresses As A Christmas Tree, Wears Dreads And Goes Nearly Topless In London (Pics)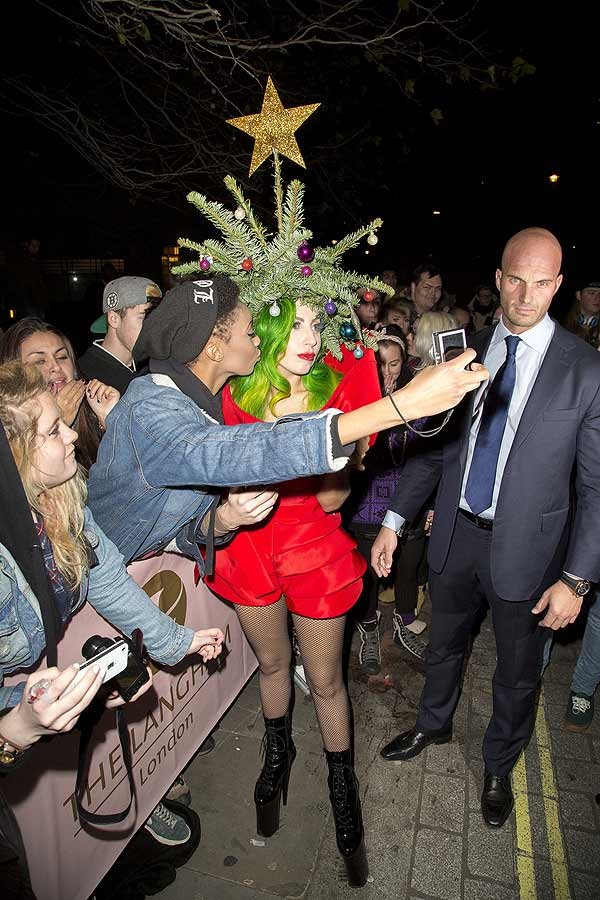 Lady Gaga has been spending a lot of time in London lately to promote new album "ARTPOP," and the singer was spotted over the weekend wearing several of her signature outfits, including a Christmas Tree hat.

The singer was at the annual Jingle Ball in London while wearing the outfit. She's also gone out in a very baring outfit and nearly falling out of her bra, wearing dreadlocks and dressing as one of the figures in a Pablo Picasso painting.

"I am SO EXCITED to perform at @CapitalOfficial Jingle Bell Ball," she tweeted before the event. "I haven't performed in an Arena since my injury. ITS HAPPENING IM BACK."

The singer made an appearance on Alan Carr's "Chatty Man" talk show over the weekend, telling the host about her marijuana use.

"The thing that I fell in love with about it is that I completely forget that I'm famous," she says. "I totally forget about it all.

"I take a puff and I'm me when I was 17 again in my white gogo boots looking for a job and there's something quite creative and liberating about that."