Lady Gaga & Donatella Versace Separated At Birth?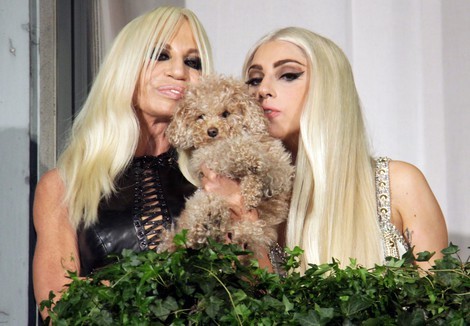 Lady Gaga and fashion designer Donatella Versace had a good time on the balcony of the Palazzo Versace in Milan, Italy, yesterday.
The singer and designer looked very similar with the same shade of long blonde hair. Lost mother and daughter, perhaps? They were joined on the balcony by Gaga's pet puppy Fozzy, and at one point threw white roses to the crowd gathered below them.
The singer, who is in town for her "Born This Way" tour, also appeared in a tight fitting red dress with bondage-like straps on the bodice.
Lady Gaga was recently criticized for gaining a little weight. She recently wrote on her website LittleMonsters.com that her boyfriend Taylor Kinney likes her curves: "When I eat and am healthy and not so worried about my looks, I'm happy. Happier than I've ever been. I am not going to go on a psycho-spree because of scrutiny."
See more photos of Gaga and Donatella...