Lady Gaga Dedicates Woman Of The Year Award To Malala Yousafzai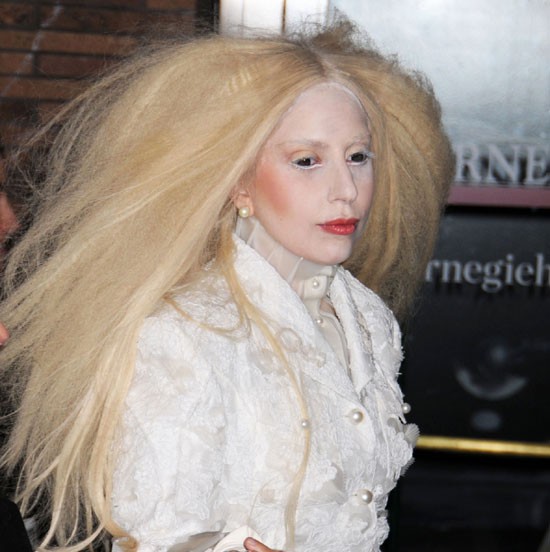 Lady Gaga was the star attraction at Glamour's Woman of the Year Awards on Monday night in New York City. The pop star showed up to the event wearing white make-up, a crimped blonde wig, a vintage-inspired white coat dress and giant pearl platform heels.
She dedicated her award to teenage Pakistani education activist Malala Yousafzai, who in 2012 was shot in the head by Taliban militants. She told the audience at Carnegie Hall, "Every woman here deserves to be on the cover, but if I could forfeit my Glamour cover, it would be to Malala."
Other honorees included Gabby Giffords, Catherine Martin, Kerry Washington, Liya Kebede, Christy Turlington Burns, Natalie Massenet, Carissa Moore, Barbara Streisand, and Melinda Gates.
The pop star was also humbled by the designation. "The truth is [the other honorees] are much more glamorous than I am," she told "Entertainment Tonight." "I am very grateful that I was chosen to be on the cover, but I think it's really an important time to look at the sphere of all the women that are being honored tonight. And to turn glamour into something that's not on the outside, but something that's on the inside."
Gaga also wants young women to understand the the beauty is in the eye of the beholder.
"I was never really treated as, or felt, conventionally beautiful, especially in the beginning of my career," she explained. "So to be put on the cover of Glamour, looking so conventionally beautiful, it's sort of shocking."
The singer added that her look takes a lot of work and time, and young girls shouldn't feel pressured to be perfect. She explained: "In order to help young people to understand that they don't have to put so much pressure on themselves to look so perfect all the time, they should know that a whole lot of money and time went into that shoot. I don't look like that when I wake up in the morning."