Lady Gaga Crowd Surfs Practically Naked (Video)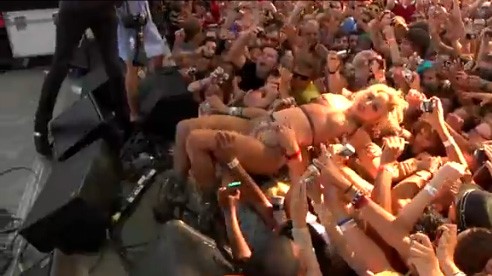 Lady Gaga surprised Semi Precious Weapons fans when she hopped on the stage during the band's set at Lollapalooza. She also jumped off it, wearing little more than pasties, panties, and fishnets.
After helping out with the drums during a song, Lady Gaga tossed herself into the crowd, leaving her bodyguards to tug her out while fans held onto her and her skimpy clothing.
Despite that, Lady Gaga hopped around on the stage once more before taking a second dive into the hands of the concert goers. Goes to show that while she is considered one of the best dressed celebs, she can also rock out in practically nothing.