Lady Gaga Biopic In The Works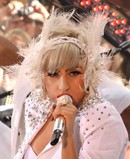 TV bosses are working on a new film chronicling Lady Gaga's rise to fame.

Executives at the Lifetime network are developing Fame Monster: The Lady Gaga Story, which will show Stefani Germanotta's transformation from struggling songwriter to multi-million selling pop star.
 
The TV film will be based on Maureen Callahan's 2010 book Poker Face: The Rise And Rise Of Lady Gaga and the script will be written by Norman Snider, who penned Kevin Spacey's 2010 movie Casino Jack.

Lady Gaga is not involved in the project, according to Deadline.com.
Who do you think should play the pop superstar in the movie? Leave your thoughts below!