Lady Gaga Back In L.A. After Shooting Latest Music Video In Nebraska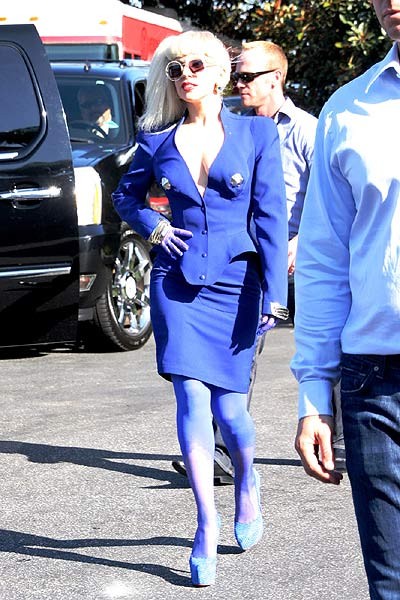 Lady sings the blues - Lady Gaga was spotted dressed from head-to-toe in blue - a skirt, jacket, tights and shoes - in Los Angeles on Tuesday. She was on her way to an appearance on Amp Radio and stopped to pose for some pictures with some of her fans.

On Monday, Gaga was in Nebraska, finishing a week-long trip where she was filming the video for her next single, "You And I," in the cornfields, barns and a biker bars.

In fact, Monday afternoon she had a radio appearance to make at KQCH 94.1, where over 100 fnas gathered outside in the 90-degree heat hoping to catch a glimpse of Mother Monster.

Word of her appearance at the station spread like wildfire over Twitter and Facebook; and, according to Omaha.com, people in Europe found out and were tuned in to the station over internet radio.

Gaga explained her affinity for the Cornhusker state, saying, "There's nothing sexier than shooting a scene in a cornfield."
On Thursday, Lady Gaga will return to Jimmy Kimmel Live's outdoor stage for an exclusive block party, which airs on ABC (check your local listings).