Lady Antebellum To Play For Tornado-Ravaged School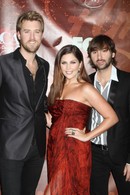 Country music stars Lady Antebellum will perform a special gig for students in Indiana whose high school was wrecked by a tornado earlier this month.

The group recently launched a competition offering a concert at a school prom, and they chose Henryville High School as the winner after hearing the teens' "story, resilience and unity following devastating tornadoes."

The school was severely damaged when powerful storms ripped through the region, killing 13 people, and classes will take place at another site when term resumes on April 2nd.

Lady Antebellum are unable to perform at the school's prom on April 27th due to a scheduling conflict, so they will instead play a special gig for juniors and seniors in nearby Louisville, Kentucky on May 16th followed by a benefit for the community.

Singer Charles Kelley has also revealed the band is planning another treat for Henryville students, saying, "Trust me, we have something even bigger in store... See you soon, Henryville!"