LACMA Blu-ray Review: 'Margaret - Extended Cut'
Is extending really the best movie policy?  We recently got a chance to head over to LACMA in Los Angeles for a Blu-ray screening of "Margaret: Extended Cut" complete with Q&A afterwards with Director Kenneth Lonergan and Actress Anna Paquin.  They talked about the more harrowing scenes to shoot and the long road to the release of the film through Fox Searchlight.  Since the flick is now available on Blu-ray, we thought we'd take a gander – check out the review below.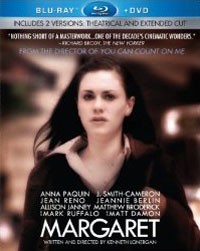 Title: "Margaret: Extended Cut" 
   Grade: 2 1/2
   Cast: Anna Paquin, J. Smith-Cameron, Matt Damon
   Director: Kenneth Lonergan
   Rating: R
   Runtime: 150 minutes
   Release Company: Fox Searchlight
   Website: www.foxsearchlight.com
The Flick: In what I would describe as Kenneth Lonergan's long emotional epic, "Margaret" is a mish-mash of stellar scenes that unfortunately don't equal a single cohesive film.  I never caught the original version, but this Extended Cut is three hours plus and it certainly feels like it.  The base story of a gal who feels responsible for the death of a woman during a bus accident is a solid one, but it's bogged down by unneeded side plots (Margaret must loose her virginity!), story lines (do we really care about her moms social life?) and goofy plot twists (see Margaret seduce her teacher – and walk away!) galore.  What's funny is this longer version actually feels like five different films squished together and rest assured not all are captivating.  I definitely respect the realistic style of Lonergan ("You Can Count On Me" is powerful stuff!) and his cast here is top notch (Ruffalo, Damon AND Broderick?!), but longer doesn't always mean better. 
Best Hidden Gem: Adored the underrated Allison Janney who plays a small but pivotal and unforgettable role as the victim of the bus accident.
Worth the Moola: At LACMA I was forced to sit through the entire full length of the Extended Cut, but thankfully at home you can utilize the fast forward button – editing is a tough job but someone's got to do it.