Lacey Chabert Stars In LMN's New Original Movie 'Non-Stop'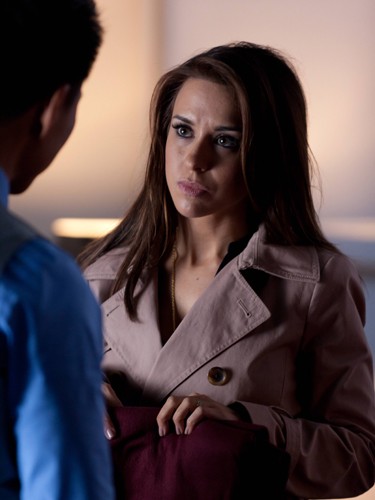 Lacey Chabert stars in the LMN original movie Non-Stop, which will probably make you think twice about what you do on an airplane. BFTV snagged a few minutes with Lacey over the weekend to ask her about the movie, and if people have stopped making Party of Five references to her yet.
"I liked the idea of shooting a film that was all in one location and takes place all in one day," she said of the flick, in which she plays Amy, a woman whose mid-air fling with a stranger ends up endangering the entire flight. "I just thought it was a suspenseful story."
Joining Lacey in Non-Stop are Drew Seeley (Lovestruck, High School Musical), Veronica Cartwright (Revenge, The X-Files) and a familiar face to our readers, Jim O'Heir (Parks and Recreation).
"I love Jim so much," Lacey enthused. "He was literally like the funniest nicest guy with the best attitude, and I was a fan of his to begin with. And it turns out he was on Party of Five like 17, 18 years ago; he was the plumber [in the episode "Deal With It"]. So it was actually the second time we've worked together."
Although Amy makes some seriously bad choices over the course of the movie, and even begins doubting her own sanity, Lacey told us that she's not too worried about the next time she steps on an airplane. "I've had to fly so many times in my life that I feel like I live on airplanes," she laughed.
Lacey has come a long way since her breakout role as Claudia Salinger on FOX's family drama Party of Five. We asked her what makes her consider a project like Non-Stop worth jumping aboard. "I look at the material and the people I'm going to be working with," she explained.
"I had already worked with this crew and [director] Richard [Gabai] before [on the 2012 film Imaginary Friend], so I knew it would be a nice, warm environment and I liked the character. Or if it's a story I'm just drawn to."
What else has she been up to? "I've been recurring on the sitcom Baby Daddy and I had another film on SyFy recently called Scarecrow," she told us. "I have another film coming out called The Color Of Rain."
In that movie, which is based on a true story, Lacey plays Gina Kell, who loses her husband to cancer and then finds love with a man (played by Alphas star Warren Christie) whose wife has also died from the disease. The Color of Rain is tentatively scheduled to air on the Hallmark Channel on Father's Day, 2014.
It's easy to see why Lacey lands a role like that or like playing the heroine in distress in Non-Stop. She's outgoing, funny, the kind of person that you want to root for or get a cup of coffee with. Hers is really a story of a good person working hard and becoming successful.
So she's a productive actress with a sparkling personality, tackling all kinds of characters. But there's one more thing we wanted to know. After 13 years, have people stopped asking Lacey about Party of Five yet?
"No, they don't. And I have no problem with it," she told us. "The whole point of being part of these productions is to hopefully strike a chord with people."
Non-Stop airs tonight at 8 PM ET/9 PM PT on Lifetime Movie Network. You can also keep up with Lacey by following her on Twitter (@IAmLaceyChabert).
(c)2013 Brittany Frederick. Appears at Starpulse with permission. All rights reserved. No reproduction permitted. Visit my official website and follow me on Twitter at @tvbrittanyf.