Lacey Chabert Shines In Hallmark Movie Channel's 'The Color Of Rain'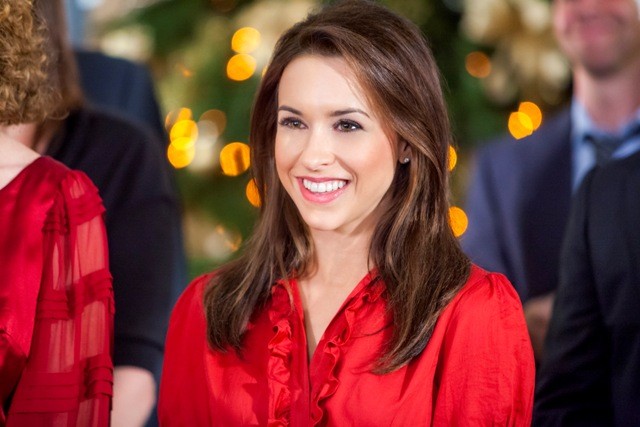 Last time we talked to Lacey Chabert, she was getting stuck on an airplane. Her latest movie is a much happier experience. In The Color of Rain, she plays Gina Kell, who loses her husband to cancer but forges an unlikely bond with another parent, Michael Spehn (played by Motive's Warren Christie), who's similarly dealing with the death of his wife. Based on a true story, The Color of Rain is a project close to Lacey's heart, and so BFTV reconnected with her to discuss it prior to tomorrow's premiere.
What made it strike a chord with her? "I read the book, actually, before I read the script, and I was so moved that these two people had found each other after going through such a tragedy," she said. "The fact that it was a true story was what got me."
"I spoke with Gina before we started filming, and then I was able to spend time with her when we were filming," she continued. "She was an open book. She let me ask her anything that I needed to. She was very sociable and very supportive."
The Color of Rain is a project that tackles both sides of the emotional spectrum; while it's heartwrenching to see the two main characters lose their spouses, there's also happiness that they and their families are able to find new beginnings in each other. With such moving material, and it being a real story, what was it like to actually make the film?
"We wanted to be very thoughtful and respectful, because it's such a personal thing," Lacey told us. "It was a passion project. Everyone believed in the story. Everyone was inspired by it." She also revealed that if you look closely, you'll see the real Spehn family make an appearance in the film.
Movies like this often depend on the chemistry between the actors, so we asked her what it was like to share the film with Warren Christie, best known for his role as Cameron Hicks on SyFy's original series Alphas. "Almost everything Warren says is a joke, and he is one of the funniest people I've ever met," she laughed. "He was a wonderful co-star. I would love to work with him again."
Lacey recently finished shooting the romantic comedy Christian Mingle, written and directed by Corbin Bernsen (Psych), and you can hear her every Saturday morning as the voice of helicopter pilot Dani Burns on The Hub's Transformers: Rescue Bots. "I absolutely love that show," she enthused.
She particularly enjoys that it reunites her with Maurice LaMarche, who voices her character's father, Chief Charlie Burns. The two previously voiced another father and daughter in 2002's Balto 2: Wolf Quest. "He's a legend," she told us. "He is so talented."
What affected Lacey the most about working on The Color of Rain was the impact that Gina and Michael's story has had on other people's lives. She told us about the couple's charitable organization, New Day Foundation for Families (foundationforfamilies.com), which strives to help other families affected by cancer. "I saw firsthand a family that they were able to help," she said. "It really touched me."
Is she hoping that TV audiences gain anything in particular when they watch this unique and beautiful story this weekend? She told us, "My hope would be that they would take away that it's possible to open your heart and love again."
The Color of Rain premieres tomorrow at 9 PM ET/PT on Hallmark Movie Channel (check your local listings for specific channel number). For more on Lacey, be sure to follow her on Twitter (@IAmLaceyChabert).
(c)2014 Brittany Frederick. Appears at Starpulse with permission. All rights reserved. No reproduction permitted. Visit my official website and follow me on Twitter at @tvbrittanyf.