Lacey Caroline Arrives With Debut EP 'Songbird'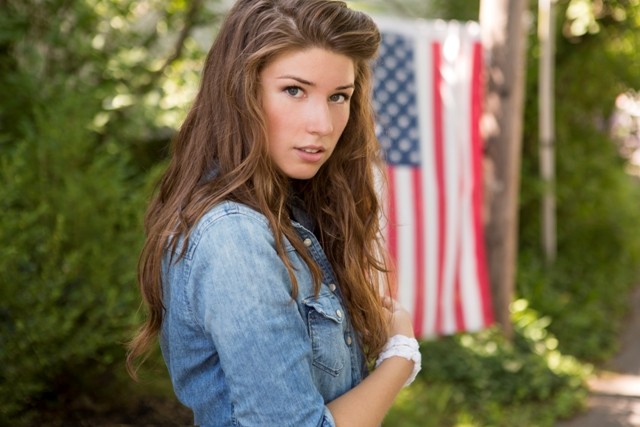 Forget labels. Forget genres. Lacey Caroline would like to do a little bit of everything. The pop-country artist is celebrating today's release of her EP Songbird, and also recently sat down with BFTV to explain what she's about, how she's going about her business, and why we should stop making jokes about her hometown state of New Jersey.
How did she first find music? "I always kind of joked that it kind of chose me," she laughed. "Because I first picked up the cello when I was like 9 and from that point on I've always played music, always wrote music. Growing up, I really wasn't able to find myself in any sort of niche. I was kind of like the outside kid. And I guess music kind of gave me that way to eally express myself."
Lacey explained that when you decide to make a career of it, it's not as easy as picking up an instrument and deciding that you're going to be a musician. "Everything's been a challenge. Music is one of the hardest careers you can possibly imagine because there's so many talented people in the world," she said, adding that "It's always about trying to find yourself as an artist and trying to find your sound, because there's so many different avenues. One of the hardest aspects of music is figuring out what road is right for you. That's been a struggle."
"I went to college to go to law school. I promised my dad that I'd finish school," she continued. "So there's always been that balance between, do I get a real job or do I stick to my guns? Every day, you look at where you've come from and what you've accomplished. And while it's very exciting to be pushing forward with a new CD, I don't know if I'm ever going to wake up and be like, 'I think I'm done now.' Every moment is like, 'What am I always looking forward to in the future?'"
She's hoping that Songbird will expose her music to a major audience, although she acknowledges that New Jersey isn't where you might expect to find a budding pop-country artist. "I think that it's really important to understand that I come from a place where country music isn't, it's not really marketed to the Northeast," she said. "It's not easy to pinpoint [me], but a good start would be, I'm coming from one of the most hardworking households you can imagine. My dad's a Vietnam vet. He taught me hard work and determination and always pushing for your dreams and for your goals."
So what are her goals? "I don't really have many commercial-wise, because I'm not backed by a label or anything like that. It's a very do it yourself project," Lacey continued. "I would [consider] success being just one person coming up to me like, 'I bought your CD and I love it.'  Being able to connect with one person would be amazing. That's what I'm in it for. Being able to move people like I was moved by music when I was growing up. I'd love for it just to be able to build a reputation, build a fan base, and start getting my name out there."
The Brandi Carlile fan hails from a state that's been maligned often, from Miss Congeniality to Family Guy, so we asked Lacey to tell us a few good things about New Jersey. "Aren't we the blueberry capital of the world or something like that?" she said, referring to the city of Hammonton, before adding, "We've got Bon Jovi and Bruce Springsteen and [Frank] Sinatra." Well, it's hard to argue with a pedigree like that.
Lacey might never add her name to that vaunted list of Garden State performers, but fame isn't what she's in it for. If there's one thing she wants audiences to take away from Songbird, it's to go after what makes you happiest, whether it's music or something else.
"I'm just a really normal kid that chose to work hard at something that they love. Music is what I love," she told us. "I just can't stress it enough. I hear a lot of people say 'I really wanted to do this with my life, but I'm doing this instead.' It's like hey, I've had a lot of different roads I've gone down in life, but music is what calls me and that's what I chose to do, and I'm going to work as hard as I have to. I really want people to understand that it's all about determination."
Lacey Caroline's debut EP, Songbird, is out now.
(c)2013 Brittany Frederick. Appears at Starpulse with permission. All rights reserved. No reproduction permitted. Visit my official website and follow me on Twitter at @tvbrittanyf.