Label Bosses 'Disappointed' By Rebecca Black Video Dispute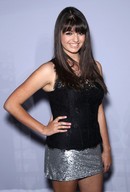 Bosses at the music company behind Rebecca Black's hit "Friday" video feel "blindsided" and "disappointed" by the singer's decision to remove the clip from YouTube.

The 13 year old shot to fame earlier this year when her promo became a surprise hit, garnering millions of views on the video-sharing website.

However, the teenager's representatives have become embroiled in a legal battle with executives at Ark Music Factory, the recording company which helped create the video, over who owns the rights, and they have ordered "Friday" to be removed from YouTube.

Ark bosses have now revealed the order came as a complete surprise, with a rep for the company telling TMZ.com, "We're disappointed, having been in good faith negotiations with Rebecca Black and her representatives for months regarding any open issues. There's been an ongoing, open dialogue with our company. So we were blindsided to get a Take Down Notice - with no notice - alleging copyright infringement instead of a call or email from Rebecca's representatives.

"We are going to continue to take the high road and work out the complaint as soon as possible."