'Lab Rats' Star Billy Unger on Season Finale, Working With Hal Sparks, and Dream Co-Stars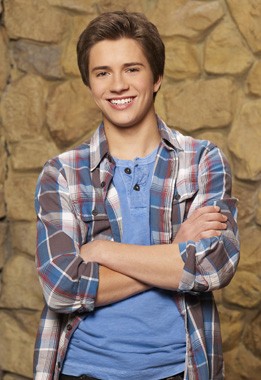 Billy Unger wants you to know that the Lab Rats season finale is "the biggest mission yet. The Lab Rats go on a mission in space. That's something they've never experienced before."
And outer space isn't the only place the Lab Rats get into trouble. "We also have a summer episode," added Unger during our recent interview, "[With] the Lab Rats going on a sort of mini-vacation to the beach and they also have to complete a mission while keeping it under wraps. There will be more comedy and more action" in the remainder of the show's first season. (It's already been renewed for a second.)
Such big adventures are typical for the Disney XD comedy, which focuses on three bionic teenagers who befriend the stepson of their creator after he discovers them. It's a quirky premise for a series, yet also fitting given that the show leads into TRON: Uprising.
Unger plays Chase, the youngest of the Lab Rats, and it's a great job for the young actor, who's very comfortable with his co-stars and the crew.
"The entire cast, every single one of them is so spot on. They have their characters down to a science. They are those characters, which makes going to work every day fun," he said. "I think the thing I've enjoyed most is working with the cast and our in-house director, Victor Gonzalez, who's an incredible director. He just makes it feel like home and the writers do the very same thing. They come to us and ask us what we'd want to see our characters do, which is very cool."
When we talk he's just chatted with creators Chris Peterson and Bryan Moore about what he'd like to see for Chase. "I told them that I really enjoyed seeing Chase when he's in an awkward situation," he explained. "He knows he's super-intelligent and he thinks that will help him. I'd like to see Chase be put in a few situations that are extremely uncomfortable. The way that he deals with these situations [is] just comical."
One of the people Unger particularly enjoys working with is one of our eight remarkable comedians from National Humor Month, Hal Sparks, who plays the Lab Rats' creator, Donald Davenport. "He's definitely someone I look up to and someone I can go to. Just one of my best friends," Unger told me. "He's so talented at so many different things. He's in a successful rock band at the same time he's an early morning talk show host. He's a comedian, he's an actor, and he plays guitar.
"And he's a very trustworthy guy as well. Despite the age difference, just talking with him is always a good time. He's one of the busiest guys I know, but he always makes time to hang out with the people he enjoys spending time with."
For the Lab Rats fans who want to see more of Unger outside of the lab, he has a suggestion for you. "I did a role on Ghost Whisperer," he told me. "I was on the very last episode and I played a ghost [named] Pete. He was a hospital patient that had died in the hospital that [character Jim Clancy] worked at. My character was just tormenting the patients that were currently in the hospital.
"It was a really fun role for me to take on. I actually took a little bit of Kiefer Sutherland in The Lost Boys; he was very mysterious and persuasive and it was almost like you wanted to see more of him. I took a little bit of that and put it into the character because when I read the script, it just reminded me so much of that film."
While you're checking out his resume, he is already thinking about what he'd like to do with the rest of his career. "There are certain people I'd absolutely love to work with," he explained. "I was a huge fan of Two and a Half Men. The comedic timing was so perfect on that show.  So maybe that show or maybe Modern Family. Both of those shows have great casts.
"I'd love to work with Tom Cruise. I just saw Rock of Ages last night and he never ceases to amaze me. He can embody a character like no other actor I've ever seen. Jeremy Renner is another one. Jeremy Renner is an incredible actor."
He offers up this consideration, spoken like a true fan of the business in which he works: "If you truly love film, if you truly love acting, you can't just pick one [favorite] because there are so many talented actors out there."
For Unger, looking forward to the future also means more time for his success to sink in., even though he knew he wanted to be an actor when he was just ten years old in his hometown of Jupiter, Florida.
"People kept telling me that I was so talented and I needed to make the move out to Los Angeles, but to my parents that was unheard of," he explained. "We made a very short trip; we weren't planning on staying here very long, just to go on a few auditions and look for an agent. I've never been home since...six and a half years later!" Sounds like he's got a bright future ahead of him.
Lab Rats continues its first season tonight at its new time of 7:30 PM ET/PT on Disney XD.
You can follow Billy on Twitter (@BillyUnger). For more on Lab Rats, visit the official Disney XD website. For more from Brittany Frederick, visit my Starpulse writer page and follow me on Twitter (@tvbrittanyf).
(c)2012 Brittany Frederick/Digital Airwaves. Appears at Starpulse with permission. All rights reserved. No reproduction permitted.