La Toya Jackson Praises Judge Who Denied Freedom To Dr. Conrad Murray During Appeal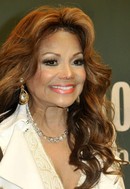 Michael Jackson's sister La Toya has praised the Los Angeles court judge who rejected Dr. Conrad Murray's request for freedom as he appeals his involuntary manslaughter conviction.

The medic is currently serving a four-year sentence after a jury found him guilty of administering the fatal dose of anaesthetic Propofol which cost the King of Pop his life in 2009.

He requested bail or the opportunity to serve time under house arrest as he fights to have the ruling overturned, but Judge Michael Pastor denied his petition during a hearing on Friday, insisting he is a flight risk and a threat to the public.

And La Toya Jackson has hailed the decision.

In a Twitter.com post, she writes, "Thank you #judgepastor for denying the release of #drconradmurray! I too strongly believe that he is a danger to society!"

La Toya recently aired her thoughts on Murray's appeal, telling talk show host Wendy Williams, "I know that he (Murray) is appealing this (verdict)... I think he's where he belongs, you don't do things like this."