La Toya Jackson Claims Ex-Husband Tried To Pimp Her To Mike Tyson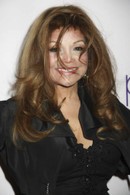 La Toya Jackson has alleged her ex-husband Jack Gordon once offered to let Mike Tyson have sex with her for $100,000.

Michael Jackson's sister has previously spoken out about the alleged abuse she suffered at the hands of her late partner and former manager, insisting she was forced into marrying him in 1987 and endured years of violence throughout the union.

And now La Toya has made another string of claims about Gordon, who died in 2005, alleging he once offered her up for sex - for a price.
Speaking on The Talk, Jackson says, "Mike Tyson later told my mother and father and some other friends that he (Gordon) had told him that if he wanted to sleep with me he has to pay $100,000."

And Jackson also claimed she was forced to take part in group sex sessions and Gordon made her pose for Playboy: "I was in brothels and everything... (It was) everything I was against. He made me do Playboy twice and had me sit on the stage and say 'Oh no, it was all my idea'. And I had to do that because I knew what he said he would do, he would do it."