L.A. Street Artist Plastic Jesus Sends A Message To Simon Cowell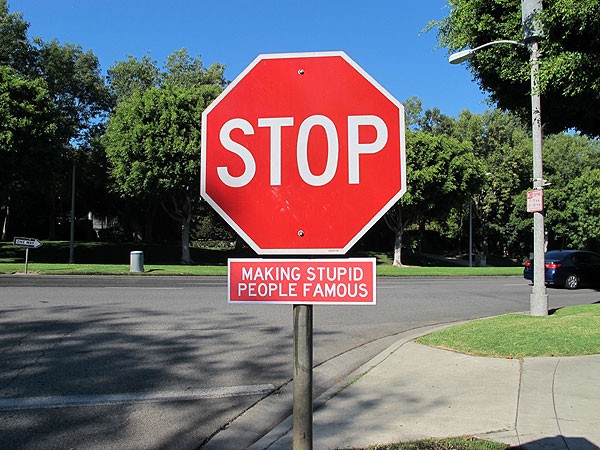 Los Angeles street artist Plastic Jesus has altered five stop signs in the area near music mogul Simon Cowell's Beverly Hills home in order to send The X Factor judge a message.

The artist made smaller, similar colored metal signs that read "making stupid people famous" and attached them below the "Stop" part of the sign.

The prank isn't the first from the artist, who often uses stencils and art installations to get his message across like British street artist Banksy.

According to Plastic Jesus's website, he uses his art to engage people about world events, society, politics and culture.

Back in July, the artist stenciled "Stop making stupid people famous" on the sides of buildings; and in August he used his art to make a statement about electronic devices at a Best Buy store, putting the "Useless Plasticbox 1.2" on one of the store's shelves, made to look like an actual product being sold (see pic here).

The item's tag ("model SH17") read, "Another gadget you don't really need. Will not work once you get it home. New model out in 4 weeks. Battery life is too short to be of use."