LA Film Fest 2013 Review - 'I'm So Excited' A Comedy That Forgets The Funny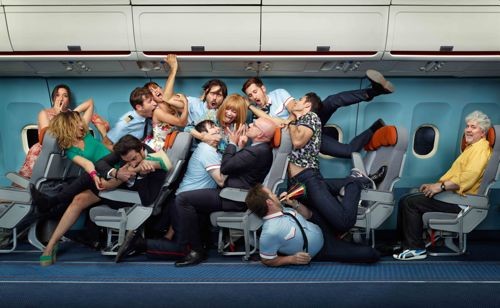 A far as comedy goes, I've never been against the broader strokes of hilarity in film.  Over-the-top gags, a vaudeville vibe and grandiose farce can provide great laughs that simple comedy may not have the gumption to attempt.  Unfortunately, in his new film "I'm So Excited," normally masterful director Pedro Almodovar forgets to add one thing to his bawdy comedy – the funny.
When an early accident leaves the undercarriage of Peninsula flight 2549 in turmoil, strange things begin to occur on the doomed trip.  Everyone in economy class is drugged into a deep sleep, those left in business class are forced to contemplate the end and the three flamboyant stewards try their best to keep everyone's mind off the tragedy that's awaiting everyone.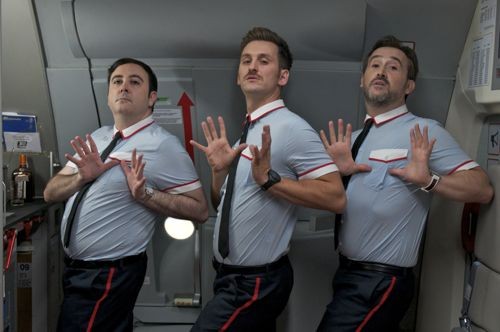 Simple synopsis but Almodovar weaves an unnecessarily complex cast of characters that takes a ton of focus away from the comedy of the piece.  Too much, too soon – confusion doesn't always equal killer comedy.   But his very European style of staging here goes well beyond theatrical – it's bad dinner theater caliber.  Obvious humor (look mom – an erection!), sad sight gags (the dance number to "I'm so Excited" goes on WAY too long!) and performances that give new meaning to the term overacting all work against the "It's A Mad, Mad, Mad, Mad World" vibe that Almodovar seems to be going for here.  And besides a small cameo by regulars Antonio Banderas and Penelope Cruz, everyone here looks, feels and comes off phony and unfunny - even at ninty minutes things go on too long. 
It's hard to believe that the man who created such an amazing body of work and was recently behind the groundbreaking and unforgettable five-star film "The Skin I Live In" (which was #1 on my Top Ten List for 2011 no less!) was behind such an unfunny and uninspired farce.  Like the aircraft that carries this cast of cads, "I'm So Excited" was in trouble the minute it left the tarmac.      
"I'M SO EXCITED" OPENS IN THEATERS JUNE 28 FROM SONY PICTURES CLASSICS.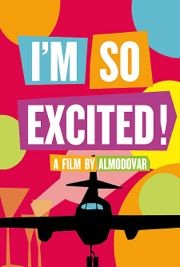 Title: "I'm So Excited"
   Stars: 1
   Genre: Comedy
   Cast: Javier Camara, Pepa Charro, Lola Duenas
   Director: Pedro Almodovar
   Rating: R
   Running Time: 90 Minutes
   Release Company: Sony Pictures Classics
   Website: http://www.sonyclassics.com
Stay tuned to Starpulse for more reviews and cool photo coverage from LAFF 2013 (www.LaFilmFest.com!)  – enjoy the fest everyone!