LA Film Fest 2011 Interview - Actress Ludivine Sagnier On Getting Away With A 'Love Crime'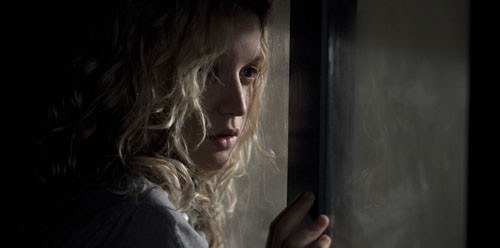 When it comes to both sex appeal and charisma in film, nobody is more exciting than French actress Ludivine Sagnier.  From her turn as a sexy siren with a mysterious past in "Swimming Pool" to portraying the lady love of crazed criminal Vincent Cassel in the "Mesrine" films, Sagnier has already made more than thirty films in her still rising career.  Her latest is a French thriller titled "Love Crime" (which played in the International Showcase section of the LA Film Fest 2011!) and has Sagnier playing a pushed-over-the-edge assistant to mean maniacal boss Kristin Scott Thomas.  Not only is the film the final amazing work from late famed director Alain Corneau, but it also features one stand-out chameleon-esk performance by Sagnier, who skillfully goes from a doe-eyed gal to bitter and vengeful woman on fire.  Starpulse recently got a chance to chat with the stunning Sagnier in a rare one-on-one interview where she talked about playing an unpredictable character in "Love Crime," working with director Alain Corneau and her thoughts on "Swimming Pool" some eight years later.  Check out our exclusive chat with fetching…
ACTRESS LUDIVINE SAGNIER!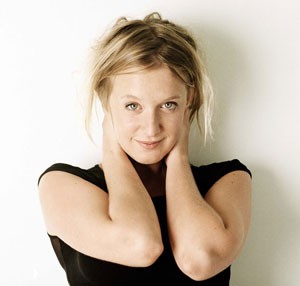 With so many different facets to your performance in "Love Crime" that include being reserved, quiet, passionate, angry, calculated and the like, what was it like creating a character with so many different sides?
Ludivine Sagnier: It was actually exhausting! (Laughs)  Because that demands a lot of energy to be able to add up all those layers of understanding because she's always pretending something and she's never what she seems to be.
You character initially takes a ton of abuse, so at what point in the film did you feel like Isabelle had had enough?
LS: I think the humiliation in public.  Showing this tape of her breaking down in the elevator and all that – it's just so cruel.  Nowadays, worldwide companies put so much pressure on the employees and they're pushing the boundaries further and further to the point where people can't cope with it.  And especially if you add that humiliation, suddenly it's not worth living.  But while we were shooting it was strange because there was this wave of suicides in a French company called France Télécom, which is a national company.  Every week there was an employee committing suicide and it was awful because the bosses were trying to get accident insurance saying that it was a work accident.  And I felt the film we were doing was fiction but suddenly it becomes a social movie, you know?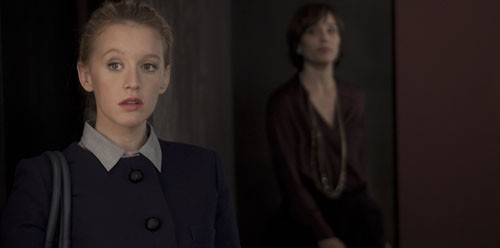 Being that this was the final film by director Alain Corneau can you talk about what it was like working with him and did you ever get to hear his reaction to the final film?
LS: The thing is three weeks after we finished shooting he went to the doctor and they said that he had very advanced lung cancer.  So actually he was totally sick when he was doing the movie, but he didn't know it.  But he was hyperactive and he would never sit down and was obsessed with order.  He would never sit down and you had the feeling like something was rushing him and you couldn't tell why.  He had this very never stop, always forward, always forward attitude and sometimes I was in need of information and he was like, 'No, no, let's move on.'  You could feel unconsciously that he was in need of time.  He got on treatment during the editing, I think he supervised it somehow, and he saw it the first week we released the movie.  It did very well the first weekend and the week after he passed away.  It was already a big chance perhaps because I thought he wouldn't finish it and the film was really important to him – and he did it.         
There was such a delicious love/hate chemistry between you and Kristin Scott Thomas…
LS: Delicious for you!  (Laughs)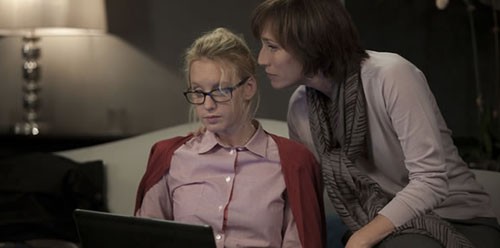 How did you two work out the very complicated dynamics of your relationship?
LS: There are plenty of things going on between them.  There's admiration, envy and desire somehow because Christine is someone that Isabelle can never be.  And also especially when Christine initiated Isabelle to be a shark in her environment – somehow she gave her the weapon to get her.  But it's funny because with Kristin I thought maybe that having to play such antagonistic roles that maybe there could be some tension or some competition.  There's this saying that when you're an actress you don't like younger actresses around because an older actresses can be a bit aggressive and when I said I was gonna do the movie people said, 'She's gonna step on your face – watch out!'  And it didn't happen the way I expected because she was so playful with me and the more bitter our relationship was the more fun we had.   
You pick some very eclectic projects indeed like "Love Crime," "Mesrine" and "The Devil's Double," so what do you look for when choosing a film?
LS: First of all I want to entertain myself on set!  (Laughs)  Also I'm looking for something that feeds me and helps me to explore human relationships and human psychology and know myself better.  So I choose roles that are really challenging where I read them and go how am I going to do this.  If I know how I'm gonna do it, it's no good.
I loved your work in "Swimming Pool"…
LS:  Thanks!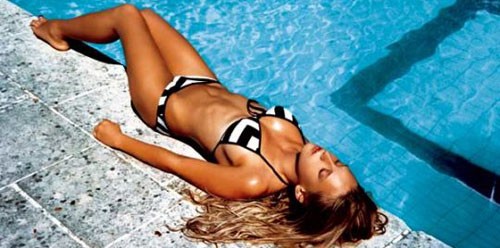 Now when you look back on that film what thoughts come to mind?
LS: It's funny because I remember when I came to the US with "Swimming Pool" the movie did well and it was great box office for a French movie, but I remember I was a bit upset because all people talked to me about was the nudity.  I was upset because that was a character that I made up from head-to-toe with make-up, hair, a tan, working out and it was like a composition.  So when I arrived in Hollywood I thought people were just thinking of the next bimbo, the next starlet who wanted to make it in America by showing her tits.  And I felt so upset because all the offers that I got at that time were the bimbo girl in horror movies.  At that time I wasn't mature enough to distinguish the idea I have of me and the idea people have of me or project on actors and usually there's quite a gap between what you really are and what people think you are.  But actually it's quite unavoidable because being an actor is being the target of fantasies and that's what we're here for, but it took me a while to understand it.  So now I embrace completely this idea of a sex symbol and all that because I know what I am and I know myself, but at the time I felt insecure and endangered.     
You've maintained an admirable commitment to making French cinema and not come to America as many thought you might - is this something that you will continue to do?
LS: When I had more opportunities I wasn't ready to take the challenge, so I went back to France and I thought I have to get grounded now.  So I settled down, I had two children and I really needed to have my own life at the time.  When you get quick fame and success and exposure it makes you feel dizzy and I didn't want to lose my balance cause that's something I've been struggling with for so many years.  I'm not fond of the idea of making it in Hollywood.  That's not my aim otherwise I would have settled down in Los Angeles.  What I'm looking for is the variety of choices and the opportunity to work with great directors – that's what I'm looking for.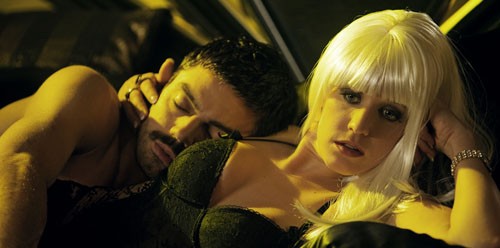 What work can we look forward to next from you?
LS:  There's obviously "The Devil's Double" and the next one will be a French musical with Catherine Deneuve called "Les bien-aimés" and I'm playing Catherine young so we share the same character.  After that…(smiles)…I still don't know!
Still pondering!
LS: Exactly!
__________________________________________________________________________________________________________________________
Special thanks to the lovely Ludivine Sagnier and everyone over at Marina Bailey Film Publicity – you rock!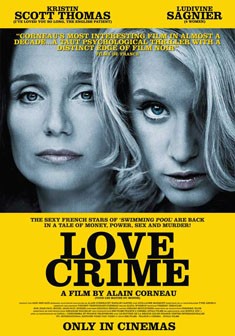 Check out Love Crime on the web at www.ifcfilms.com and watch the trailer below!