Kyle Patrick From The Click Five: Going Solo
Frontman of The Click Five, Kyle Patrick, has unveiled his album artwork for his upcoming self-titled debut solo EP, Kyle Patrick!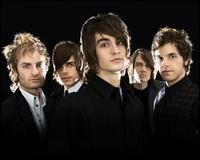 The Click Five is a Boston power-pop-rock band which consists of Kyle Patrick (lead vocals and rhythm guitar), Joe Guese (lead guitar), Ethan Mentzer (bass guitar and backing vocals), Ben Romans (keyboard and backing vocals) and Joey Zehr (drums). They are best known for their hits such as "Just The Girl" from Greetings From Imrie House, "Jenny" and "Empty" from Modern Minds and Pastimes as well as "Don't Let Me Go" from their latest album TCV.
Although the 26 year-old singer is launching his own solo career, he is not leaving the band. The band is currently working on an EP as well.
Kyle Patrick will include a song Kyle has been working on for quite some time: "Go For Gold". Originally titled "Ready Set Go", the track has been through numerous modifications until its final version, which will be released along with a music video on Jun 20. Kyle describes the song as an upbeat and an anthemic song, and feels that it is well fit for the 2012 London Olympic Games. He entered the Olympics 'Show Your Best' competition, and he stands a chance to win a trip to the Olympic Games in London! Fans can vote for him here: https://showyourbest.olympic.org/en/#!/video/67f0e3abb211a6819e22f6b079efe8d1
Kyle Patrick will be released worldwide on Jul 20.