Kyle Patrick Follows His Heartbeat And Goes For Gold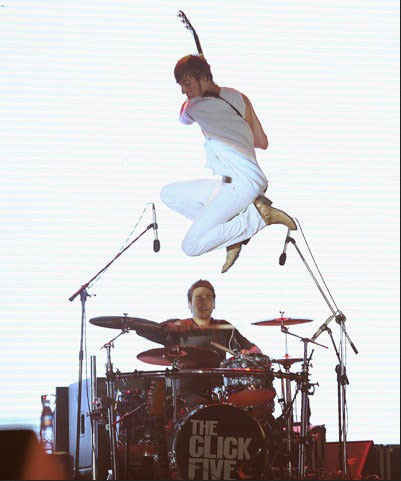 What do you get when you mix three dance tracks with a ballad and a famous classic from the good ol' '70s era? Kyle Patrick is what you get. Kyle Patrick is a self-titled five-track EP released by, well, Kyle Patrick. Kyle's name may not be familiar to most, but I'm sure most people would know who this guy is when I say three words: The Click Five.
Yes, Kyle Patrick (affectionately known by his fans as the Snackdragon) is the front-man of Bostonian rock band The Click Five, best known for their hits "Jenny", "Just The Girl" and more recently, "Don't Let Me Go". Together with the band, Kyle released two albums (Modern Minds and Pastimes and TCV), sold over two million records, played sold-out shows worldwide and stole the hearts of teenage girls all over the world. Unfortunately, the band was dropped from Atlantic Records in 2009, and their third album TCV was funded by their own wallets.
Right now, Kyle is currently an indie artist. He funded his latest masterpiece Kyle Patrick with the help of his dedicated fans via fan-funded music platform. He began a three-month campaign to win the hearts of his fans via regular news updates, videos, demos and more, and in return, fans would pledge for exclusives such as autographed albums, photographs and more. Of course, the charming lad gained more pledges than he had expected, the final pledge count exceeded his target by a whopping 28 percent!
The result of his efforts? Kyle Patrick. The EP contains five tracks: "Follow Your Heartbeat", "Go For Gold!", "Wild Ways", "Baby Don't Board That Plane" and a cover of Bill Wither's 1971 classic "Ain't No Sunshine".
Upon hearing "Follow Your Heartbeat", "Go For Gold" and "Wild Ways", a fan of The Click Five would definitely not believe that this is the same man behind "Jenny" and other Click Five hits. These three tracks are upbeat and dance-y electropop tunes, and they can be compared to tunes by artists such as One Direction and The Wanted. (Speaking of The Wanted, Kyle will be their opening act on two of their Asian tour dates!)
"Follow Your Heartbeat" has a very exotic and tropical vibe, and I could definitely see it being used in a tourism ad or something. The catchy "whoa" bits in the chorus are sure to hook the listeners!
"Go For Gold!" was released a month before the EP, and Kyle has described the song as an uplifting, anthemic tune. I can definitely see why – the lyrics are extremely meaningful. One line from the song that catches my attention is: "Even if we fall and make mistakes, we live, we learn, we change". The grand whoa whoa whoa's in the bridge mimic the cheers in a stadium setting, and I must say that it was a job well done. The song is majestic, quick and catchy, but it does not lose the whole inspirational message the song was supposed to convey, and that is something that is extremely hard to achieve in today's music.
If you're in need for a new tune to spin at your parties, "Wild Ways" is one you should definitely consider. This track is 3 minutes and 41 seconds of fun, and once again, like the previous two tracks on the album, it is extremely catchy. This song is probably the best on the album, even Kyle himself says that "Wild Ways" is his favorite track off the EP.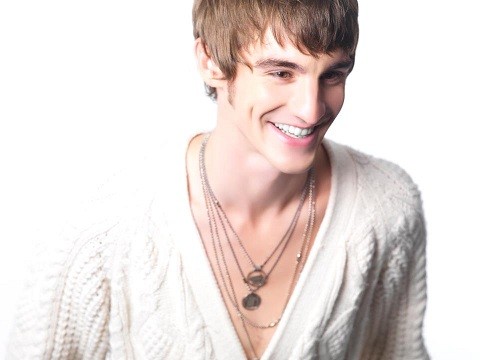 Now, it's time to get in touch with the Snackdragon's emotional side. "Baby Don't Board That Plane" is a beautiful ballad Kyle wrote back in 2009, about a girl he was once in a relationship with. In an interview, he said that it was about a girlfriend who had moved away, and it was a long-distance relationship. Well, long-distance relationships are often tough to keep, and soon enough, rumors were flying around, and Kyle just wanted to show her that he was still that same guy she fell in love with. Aww! This song is very personal to Kyle. Fans who had contributed to his campaign on Pledgemusic have heard quite a few variations of the track, from acoustic to electro-pop to its final version. The drumming was very well done. With the first beat of the drum, a listener can tell that the song is not going to be just another one of those dance songs, but it's not going to be another typical ballad you hear on the radio either. This song is extremely unique, and it brings out a whole other side of the singer: the desperate, emotional and romantic side of Kyle Patrick.
Saving the best for the last, the alumnus of the prestigious Berklee College of Music shows off his versatile vocals on Bill Wither's 1971 classic "Ain't No Sunshine". Kyle takes the classic to the next level – he added background vocals and instrumentation. His rendition of this song is one of the best I have heard so far, and that's saying a lot since there have been so many amazing covers by good singers over the four-decade history of the song.
On a scale of 1 to 10, 10 being the best, I would give this EP a rating of 8/10. Compared to his first EP KP released in 2010, this EP is more on the pop side. While the pop tunes are catchy and addictive, "Baby Don't Board That Plane" makes listeners crave for more of the soulful ballads. As a fan of Kyle's for five years (and counting), I would much rather hear Kyle belt out songs similar to the songs from his previous EP. There were some pretty good tracks in that EP such as "Another Life" and "Light At The End of the Tunnel". However, like all his fans who have been with him for the past five years, I  guess I'm just a little unwilling to let go of the Kyle Patrick who serenaded my heart with "Empty" and "Second Nature".
This EP is like a hidden gem, I am sure that it would do very well on the charts here in the United States. Have a listen to the album's lead-off single "Go For Gold!" and if you like it, check out the rest of Kyle's music at www.kylepatrickmusic.com. It's about time Kyle Patrick gained the recognition he deserves, and Kyle Patrick definitely proves that this man has the potential to be the next big thing.