Kurt Metzger Talks Season 3 Of 'Ugly Americans'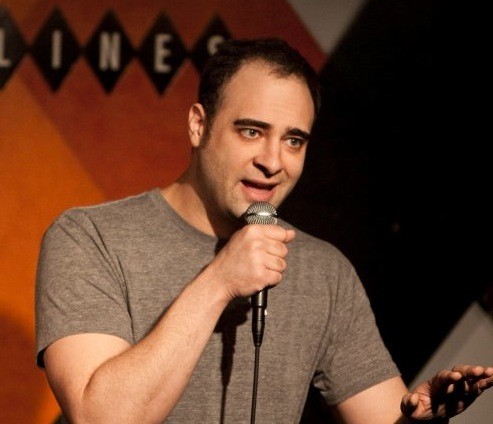 On Comedy Central's Ugly Americans, Kurt Metzger plays an unemployed zombie who once had relations with a toaster. That should clue you in to his sense of humor.
The Last Comic Standing alum provides the voice for Randall Skeffington, who became a member of the undead to (no surprise) attract a girl, only to find out she'd moved on to warlocks.
He's unemployed, has too much time on his hands, and still has issues with his parents. He's one of the many quirky residents of an alternate-reality New York City that's the backdrop for Ugly Americans, which begins its new season tonight at 10:30 PM ET/PT. (The first season is available on DVD.)
Kurt recently sat down with me to talk about voicing Randall and his ongoing stand-up comedy career, plus what it's like to share a name with someone who couldn't be farther removed from you.
Let's talk about this upcoming season of Ugly Americans. What's some of the stuff you most enjoyed?
The most fun thing was they had me come in with this guy Mike O'Gorman, who does all these celebrity voices - he does an awesome Christian Bale - and just make up shit. This season I think is really good.

Has there ever been anything that you're surprised makes it into the show?

There's not much surprise. The one episode where my penis ran away, I know someone had to get special approval to put "dick" in that many times. Nothing surprises me anymore. We're on after South Park. There's no kind of Christian morals governing this.

What's your recording process?

It's individual. We do table reads [and] I really enjoy doing the table reads. All the cast, I like them. I love these fun ones where I like the people. The whole thing is really cool, except for waiting to find out [the show's fate].
I've been really lucky [in my career]; I've worked some tense gigs, but I've never been like "I hate everyone here."
What do you love most about working on the show?
It's really a dream job. It's collaborative. I hate being on book. I love to ad-lib, especially with something that's a lot of conversation. When you write it down from the time until someone actually says it, it might not be funny anymore. They just let us go off book.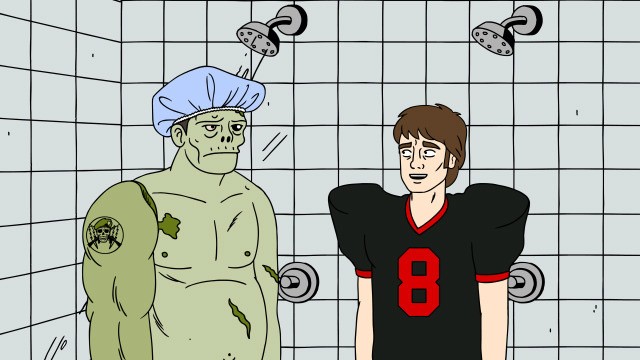 You have a bit of a background in animation, right?
I went to the Art Institute in Philadelphia for animation. I was into comic books [and] I was going to be an animator.
Instead, you became a stand-up comic. Do you think your stand-up experience helps you when recording for Ugly Americans?

Stand-up is definitely what helps me work on the show. One of my favorite stand-ups was Patrice O'Neal. He had a real "in the moment" element to it. He would really go with the flow, with the crowd. He had prepared material, but it was just the order he chose to do it. He was never singing a song. What's cool about this [show] is I can just do a bunch of stuff.

Who makes you laugh?

My favorites are [Dave] Attell and Patrice; they're the two guys I'm influenced by. I really like their thing, [and] I love Louis C.K.

Are you working on anything besides the show?
I'm getting prepared for an hour for Comedy Central that I'm getting together. That's the main thing I'm worried about. I just got done with this pilot.
My album is available on Comedy Central Records. It's called Kurt Metzger Talks To Young People About Sex. The other Kurt Metzger has an album called Kurt Metzger's The Warmest Christmas, and I like to say my CD is a follow-up to that.

What shows are you a fan of?

I'm getting toward that old age where people have to force me to watch stuff. I watch a lot of sci-fi stuff. I watch The Walking Dead, I watch Bill Maher, I love Fringe, I like Archer, I watch Portlandia a lot.
My thanks to Kurt Metzger for this interview! You can hear him when Ugly Americans returns to Comedy Central tonight at 10:30 PM ET/PT. You can also follow him on Twitter at @kurtmetzger.
(c)2012 Brittany Frederick/Digital Airwaves. Appears at Starpulse with permission. No reproduction permitted. All rights reserved.