Kurt Cobain To Be Honored With Bridge And Park?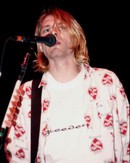 Officials in Kurt Cobain's hometown are considering a request from fans to rename a bridge and park in the tragic Nirvana star's honor.

Locals in Aberdeen, Washington are being petitioned to see if they favor the renaming of Young Street Bridge over the Wishkah River and a nearby pocket park to Cobain Bridge and Cobain Landing.

Residents will get the chance to offer their thoughts on the proposal at an Aberdeen City Council meeting scheduled for July 27.

Cobain committed suicide in April, 1994.