Krups Beertender [REVIEW]: Have a Beer at the Bar… At Home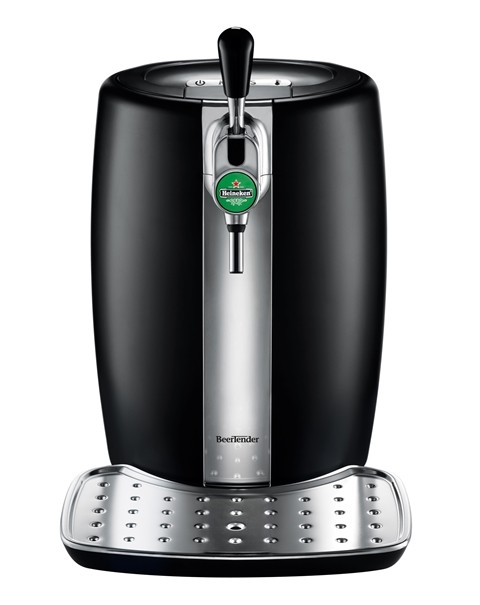 You've probably started to see mini-kegs pop up in liquor stores from your favorite beer brands. They're certainly a lot more practical for lugging home if you're not in college anymore. But your first few pours out of them might not make you feel like the best bartender.
That's where the Beertender from Krups comes in it. You can use the sleek tap device with a Heineken, Heineken Premium Light or Newcastle Brown Ale mini-keg—just check the mini-keg to make sure you see the Beertender logo on there.
The Beertender is quite easy to set-up. First, wash the tap which you can unscrew from the front—you'll want to make sure there's no dust in it after you unpacked it for the first time or left-over dried beer from your last tap. Then, press the button on the top and open the unit. Attach a Beertender draught tube to your keg (five come included; you can order additional ones from their website) and then to the Krups unit itself.
The pictures in the instructions are extremely easy to follow and you should have your keg inside the unit within five minutes. Since my keg was already cold, it only took an additional fifteen minutes for the Beertender to register that it was cold enough for pouring—if yours isn't, you may need more than 10 hours. The LED temperature indicator on the top will tell you when you're ready.
Your first beer is going to come out very, very foamy. For additional ones, let the tap run a quarter of a second to a half a second into the included dripping tray before pouring into a pint glass to avoid extra foam.
We were also amazed at how quiet the Beertender was. In standby mode – when the keg is cold enough – you didn't hear it at all, and even when it was in cooling mode, it was very, very quiet.
I tested the Beetender with a Newcastle this past weekend with my roommate, Ryan, and friend Chad. We all agreed that the temperature of the beers was perfect and they tested as good or better than in a bar. (This of course depends on how divey of a bar you're used to.) Chad said, "It tastes just like you ordered a beer at a bar."
Both Chad and Ryan felt the price of $149 was almost in impulse territory, especially for people who really care about how their beers taste. While Chad especially wished there was more than just the three brands currently available, it would be worth it for Newcastle they agreed.
While it's unfortunate you have to order additional tubes online and online only, they are extremely reasonable as they come to about $1.67/per plus shipping handling.
If you want to have a draft beer at home at the Super Bowl this coming weekend, or sometime in the near future, the Beertender is a great purchase.
* Disclosure: Krups provided a Beertender to the reviewers for the purposes of this write-up. *