Kristin Chenoweth To Hit The Road For First Concert Tour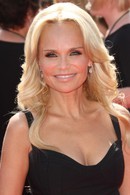 Broadway star Kristin Chenoweth is hitting the road for her first ever concert tour.

The Tony Award-winning singer/actress will perform tracks from her latest album Some Lessons Learned as well as her favorite Broadway songs on her 19-date North American trek, which kicks off on May 9th in Seattle, Washington and ends in June in her hometown of Broken Arrow, Oklahoma.

She tells the Associated Press, "I've sung all over the place but I've never committed to a tour because of my schedule. So now I'm finally doing it. For me, it will be very emotional."

Officials in Broken Arrow will welcome the Glee star home by renaming the city's performing arts center in her honor. Chenoweth admits she can't wait to revisit her hometown - as she hasn't been back since her parents moved away when she was 19 years old.

She adds, "I'm sure I'm going to want to drive by my high school. I'm sure I'll go by the house I grew up in. Hopefully I'll get to see some people that were dear to me in high school. And maybe some who weren't so dear.

"That could be interesting."