Kristin Chenoweth In Flight Scare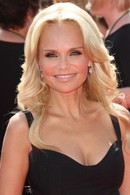 Nervous flyer Kristin Chenoweth was left "scared to death" after a plane's engine failed shortly before take-off on her flight out of Tennessee on Friday.

The Glee star boarded a plane but take-off was aborted due to a technical problem, and the actress admits she felt "shaken," but relieved because she had been dreading the journey all day.

In a series of posts on Twitter.com, she writes, "Our right engine blew right before take-off. Pilot aborted and I am getting a flight (hopefully) tomorrow am (morning)... Crazy night! I'm ok!!! Right engine blew so I fly out tomorrow... It felt weird all day. The plane. I didn't wanna go. And these pilots knew what they were doing... (I am) shaken a bit. But thankful... Scared me to death."