Kristin Cavallari Was Trying On Wedding Dresses Just Two Days Before Jay Cutler Broke Up With Her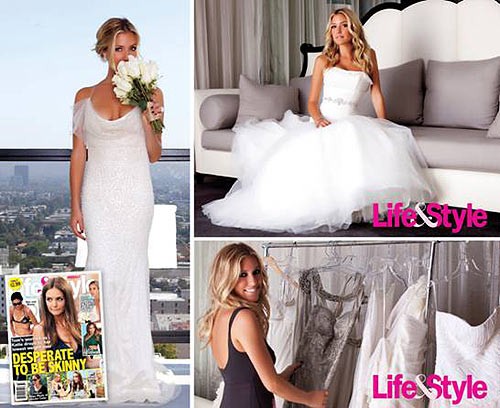 Reality TV star Kristin Cavallari was trying on wedding dresses just two days before she was shocked by fiance Jay Cutler, who called off their engagement and broke up with her.

Wearing gowns by Anne Bowen and Mon Cheri Bridals, she "gushed" to Life & Style about how excited she was for the wedding and her hopes of finding a strapless gown.

"I want a romantic, mystical wedding, with lots of flowers," she told the magazine.

Cutler proposed to Cavallari while on vacation in Cabo San Lucas in April; and earlier this month had their engagement party.

An insider told Life & Style that Cutler had asked her to go to Chicago with him the day after her photoshoot for the magazine, and she refused because of work obligations.

"Kristin said she didn't want to because she's working on a new TV project and had a full day of shooting scheduled for Tuesday (July 26)... he told her that she needed to commit to him, and to move to Chicago," said the insider.

Cutler called off their engagement and went back to Chicago without Cavallari after she revealed that she wasn't willing to give up on her career for him.

Cutler's family were also reportedly pushing the couple to start a family as soon as they got married, which probably didn't help things.

The couple began dating last September; and one of Cavallari's friends says the actress is "devastated" following the split.

For more from Kristin Cavallari's photo shoot, pick up the new issue of Life & Style, on newsstands now.