Kristin Bauer Launches Petition To Protect Captive Chimps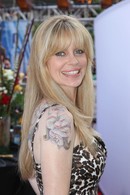 True Blood star Kristin Bauer is spearheading a new campaign to help protect chimpanzees held in captivity.

The actress has launched a petition urging American officials to take a stand against animal cruelty and put an end to the exploitation of chimpanzees, which are currently facing extinction.

In a letter to the U.S. Fish and Wildlife Service, she writes, "Chimpanzees have been recognized as an endangered species by the U.S. Fish and Wildlife Service since 1990, but only wild chimpanzees are protected under the Endangered Species Act (ESA).

"Captive chimpanzees in the U.S. used in painful experiments, entertainment and kept as pets don't get any of the protections given to chimpanzees in the wild. Studies have shown that when people see chimpanzees used in commercials and interacting with people in the media, it leads them to believe that chimpanzees not only make good pets, but that they aren't even endangered."

Bauer is asking fans to get involved in the mission too - she's still looking for more than 100 followers to back the project and add their name to the petition in hopes of inspiring swift legal action.

Earlier this year, Bauer joined Alicia Silverstone and penned an open letter to the European Commission asking officials to uphold a proposed ban against cosmetic testing on animals.