Kristen Wiig Opens Up About New Boyfriend Fabrizio Moretti, Leaving SNL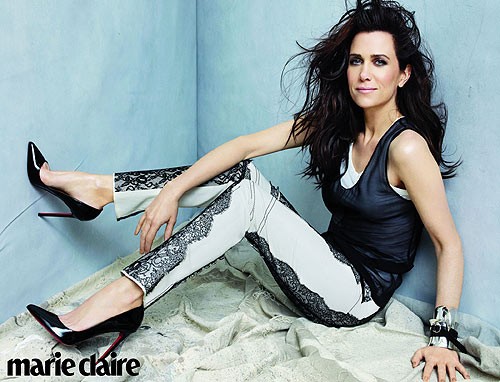 Kristen Wiig talks a lot about timing in the August issue of Marie Claire magazine; revealing why it was the right time for her to leave Saturday Night Live and how her relationship with The Strokes drummer Fabrizio Moretti has put her in one of the happiest times of her life.

Kristen only planned to be on SNL for seven years before moving on - or so she says.

"I know a lot of people probably assume, 'Oh, she's leaving because she is going to be doing movies now and things like that,' which I will be. But I just always knew it was going to be seven [years] and that was it," she says.

"I think maybe if I were 22, I could see myself staying a little bit, but it just felt like the right time," she adds.
Kristen says that leaving the late-night comedy sketch show was a very "surreal" experience for her.

"You have all this stuff going on in your head, like, 'I can't believe seven years has gone by, and I'm going to miss all these people.' And I'm like, 'Oh, by the way, Mick Jagger is to my right, and I just danced a waltz with him.' So there's that," she says.
The usually shy Bridesmaids also opens up about her relationship with Moretti, saying that she's "happier" than she's "ever been" and that she feels "very lucky" right now.

When asked why, she simply adds, "Where I am now. Who he is. Those are the two big ones."

See more of Kristen Wiig and read her full interview in the August issue of Marie Claire, on newsstands Tuesday, July 17th.


Check out the behind-the-scenes video of Kristen's photo shoot: