Kristen Wiig Named 'Bro Of The Year' By GQ Magazine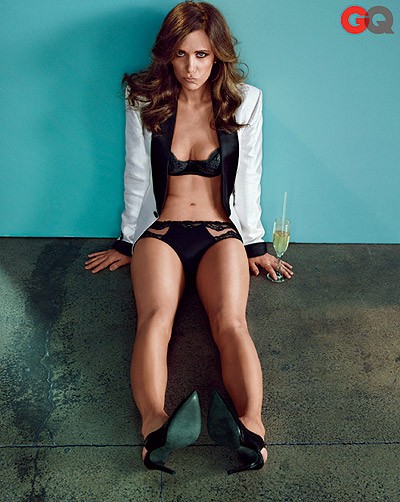 Saturday Night Live star Kristen Wiig may have stripped down to some sexy lingerie for this sizzling photo from the December issue of GQ magazine; but what is Kristin doing in the magazine's annual "Men of the Year" issue?
She was named this year's "Bro of the Year for her work co-writing and starring in the hilarious comedy Bridesmaids

Co-star Jon Hamm was asked to reflect on the uninhibited comedienne and he reveals that she's actually quite shy when she's not in character.

The Mad Men star writes, "Kristen is incredibly shy; she has her hoodie pulled up and her sleeves pulled over her hands.

"But this is a woman who wore coconuts on her t*ts on SNL; she can go to the craziest, most grotesque places on the planet in character."

Hamm also says it was "inspiring" to see how Kristen works, taking control behind the camera and then getting into character in front of it.
"It was inspiring to watch Kristen quarterback the team, be the cheerleader and decision-maker, and then get in front of the camera and be hilarious," he says. "For a lot of comics, there's a persona they're not comfortable revealing unless they're performing."

For more on Kristin and all the other "Men of the Year" features, head over to GQ.com, or pick up a copy at newsstands nationwide beginning November 22nd.