Kristen Stewart Would Have Done Whatever It Took To Land A Role In 'On The Road'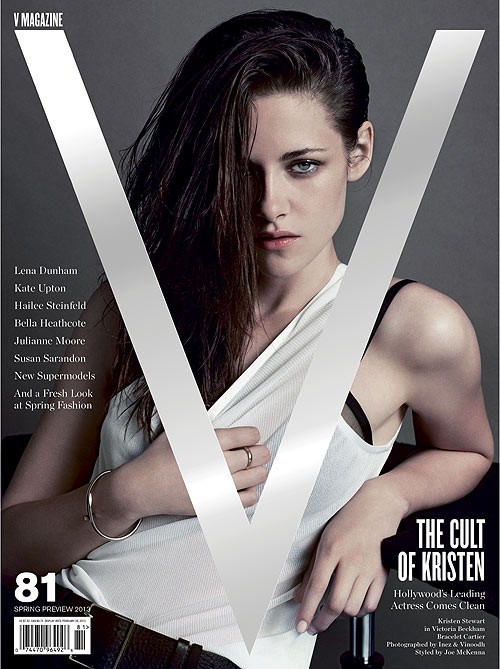 Kristen Stewart brings some vampy sexiness to the cover of V Magazine's Spring Preview 2013 issue -- or is that sexy vampiness?

Either way, the star of the adaptation of Jack Kerouac's beat novel On the Road (out in limited release since Dec. 21) looks more Twilight than wild teen in the 10-page spread.

Kristen discusses her latest role and the responsibility she had in bringing her character, Marylou, to life on screen; and she also says that the photoshoot itself was an experience that surprised her.

"[Filming On the Road has] been a f---ing amazing experience," she says. "I would have done anything, I would have played any part. Marylou [her character in the film] is remarkable because she has a tough core.

"When you are a teenager a year can be crippling to maneuver through, you're just out there questioning things and so to be completely ok with that and not think that there is anything wrong with you, that's something I've recently understood. I'm 22. Marylou started this whole thing when she was 15."

Stewart, who name-drops Jennifer Lawrence, Amy Adams and Dakota Fanning as some of the "cool girls out there" when asked which young actresses impress her, says that like her contemporaries she takes what she does very seriously.

"It's a pretty f---ing odd thing to want to pretend to be another person and then have a lot of other people who watch you do that," she explains. "You have this experience of reading something, and if you don't bring it to life, you're basically deleting it. The responsibility is amazing."

On a lighter note, she reveals that she had quite an enjoyable time with photographers Inez & Vinoodh, who did her photo shoot for the magazine.

"When you find yourself with people like that you can really thrive. It was fun. I would follow them where ever they wanted to go. I had a really good time that day, I was kind of shocked by that," she says.

Check out more of Kristen and read her full interview in the Spring Preview 2013 issue of V magazine, on newsstands everywhere January 10 and at V Magazine.com.