Kristen Stewart & Robert Pattinson Attend Halloween Party Together Wearing Plastic Masks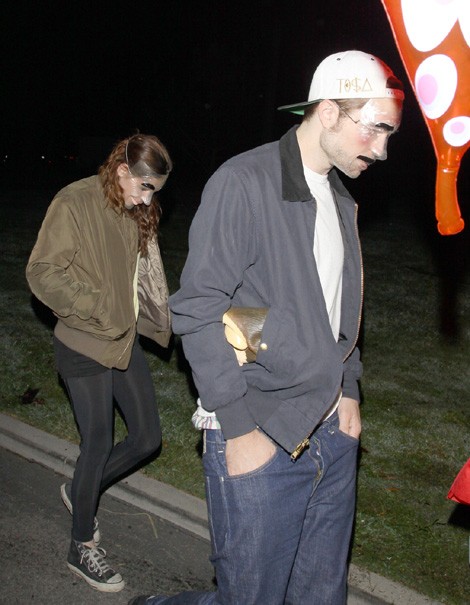 They keep showing up in public together, so it appears that Kristen Stewart and Robert Pattinson have rekindled their relationship. We spotted the on-again/off-again couple leaving a Halloween party at the Hollywood Cemetary in Los Angeles on Wednesday.
The duo didn't make much of an effort with their costumes. They simply slipped on plastic masks to cover their faces. Rob also had a werewolf mask in his pocket. If they really wanted to go incognito, they could have worn full-body costumes. Perhaps they wanted to be recognized?
Kristen and Rob had a slight rough patch over the summer after she admittedly had an affair with her "Snow White and the Huntsman" director Rupert Sanders. The co-stars have seemingly made up; however, it could all be just for show while they promote their upcoming film "The Twilight Saga: Breaking Dawn - Part 2."
Last week they were spotted going to a Prince concert at the Sayers Club in Hollywood. They shielded their faces from camera flashes but didn't try to hide from the paparazzi.
Are they faking it or is thier romance for real?
See more photos of Kristen and Robert in their masks...