Kristen Stewart, Robert Pattinson And Taylor Lautner On 'Oprah' (Video)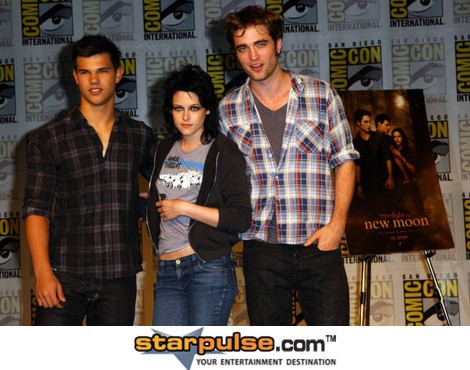 The stars of Twilight Saga: Eclipse visited The Oprah Winfrey Show to talk about their latest film and what's going on off the set.
Kristen Stewart chatted about how shy she can be in real life, even if she seemed somewhat comfortable on t he couch next to Oprah. "I get so nervous," she said before Oprah gave her a hug. "I can also completely relate to the fact that [Bella] is totally awkward."
While there is a love triangle between Kristen Stewart's, Robert Pattinson's and Taylor Lautner's characters in the movie, everyone wants to know if Stewart and Pattinson are dating.
"There are all these rumors about the two of you dating. Is it true?" Oprah asked.
"Kristen's pregnant," Rob replied with a grin.
"We've actually had this conversation. He's having the baby," joked Kristen.
Kristen Stewart Photos, Robert Pattinson Pictures, Taylor Lautner Gallery