Kristen Stewart On Her Edgy 'Twilight' Follow-Up 'On The Road'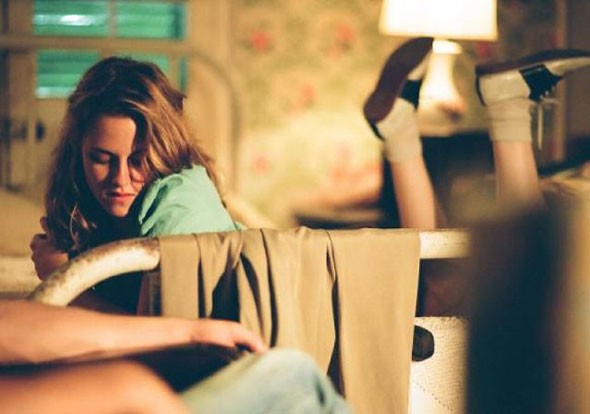 Kristen Stewart's new movie is also based on a book that was highly influential on a generation. This is not Twilight though. On the Road is based on the Jack Kerouac book from 1957. The film version is rated R, for scenes of sex and drug use, in both of which Stewart's character partakes. It's all in the book though, which Stewart read in her early teens.
"I think the actual law is if you are with a parent you can go and see an R-rated movie, if you're over the age of 13," Stewart said. "I guess it depends on who your parents are, who you are. I read On the Road when I was 14,  so I don't know.  My parents never wanted to shelter me from the world that we live in, so I think I'm probably not the right person to ask. I think if you have a desire to see it, and your parents don't want you to see it, take that bull by the horns."
Stewart met reporters about On the Road just as the Twilight movies were ending. She compared the two types of readers. "I don't get to have very many involved conversations with Twilight fans. It's really rare.  Sometimes, the girls that run the fan sites will come in and do an interview and I absolutely love doing that.  I find that a lot of people I talk to, most journalists I sit down with, are huge On the Road fans. I feel that they're even assigned to those stories because they have an interest in it. I've got to talk to a lot of passionate On the Road fans. The difference is there's a lot to feel in Twilight, and that's the experience usually of having individual exchanges with fans, without even saying, you just feel it, but obviously with On the Road there's a lot to talk about."
Now that Twilight is over, it's up to a new set of actors to carry the next franchise. Stewart has some advice for those future stars. "You better love it or don't do it. To be on one project for five years, I had the exact same feeling that I had when I first started the project. The only difference is that now, only at this point, I have that weight lifted, I want it back. I don't have to worry about Bella anymore. But, I'm like, it's so weird. Where is it? She's not like tapping me on the shoulder anymore."
Check out more pictures and the trailer from 'On the Road,' now in limited theaters.