Kristen Stewart On 'Breaking Dawn - Part 2': 'It's So Crazy!'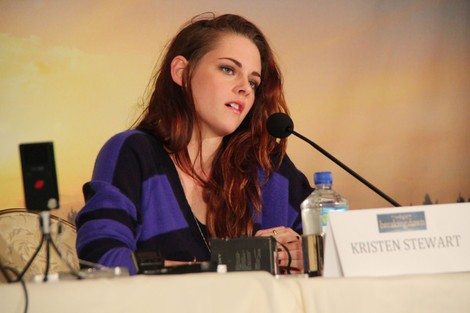 The final Twilight movie is finally upon us. Fans will finally get to see it Friday, or Thursday at midnight if they wait up for it. The press got to see it a few weeks ago and Kristen Stewart herself got to see it even earlier. Her review is in.
I actually saw it a while ago and I wish I had a better way of saying this: it's crazy," Stewart said. "It's so crazy! I saw it again recently and I just saw the final cut, and nope, it was a really good thing that no one was around."
If it made Stewart emotional, and she starred in it, imagine what fans are in for. Bella (Stewart) and Edward (Robert Pattinson) got married in Breaking Dawn - Part 1 and had a baby together, but there's still more heartstrings to pull for the final chapter.
"Not to make it sound not sappy but this thing is romantic. It is what is attractive about it. It is so sort of stirring. I think if anyone was going to try to be cool about it, it just would have been a shame.  I think that could have been so easy for so many people to do."
Stewart certainly takes it seriously, and plays Bella sincerely. "One thing that I don't think I do is play characters. I find that as soon as you start claiming to be someone that you're not, you're crazy. I think scripts can really surprise you. You go, 'Wow, I did not know that I would response to something like that. I did not know that I had that in me.' And so the process of making the movie is just finding that and digging a little deeper. I think that's why maybe I've played parts that are really similar to me because I'm young. I wanted to explore things that were more apparent to me. Now, I'm getting to the point where I want to dig a little deeper. You can shock yourself a little bit with this, and that's what I would like to do."
The Twilight Saga: Breaking Dawn - Part 2 opens Friday.