Kristen Stewart Gets Glamorous & Discusses Her Last Days As Bella Swan (Video)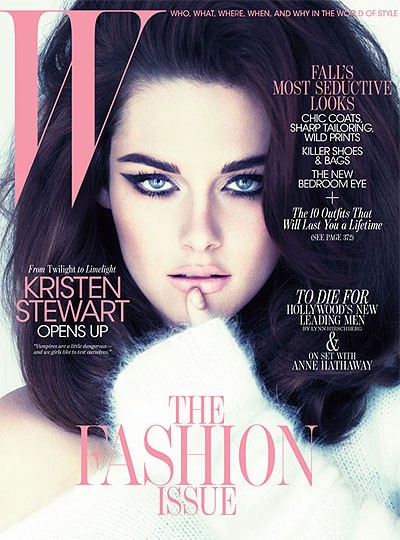 Twilight star Kristen Stewart became the vampire saga's heroine, Bella Swan, at age 17, and now the 21-year-old has shed her youthful image in a new photo shoot for W Magazine.

Stewart glams it up and reflects on the Twilight saga and wrapping up the series' final installment, Breaking Dawn, Part 2, with W editor Lynn Hirschberg.

"I was working when I read the script for Twilight. I read the script before I read the book," she says.

"Obviously, I tore all four books apart over the course of three years, but initially I had no idea that Twilight was such a big deal.

Kristen says the final film is "filled with BFDs" (big f***ing deals) - including Bella's wedding to Edward (real-life boyfriend Robert Pattinson) and ties up a lot of the loose ends that Twi-hards have been waiting for throughout the series.

She also explains that it never really hit her that she wouldn't be playing Bella ever again once the last scene - a wedding scene where every character was on set, which totally exhausted her - was filmed, but a later call back to shoot one extra clip brought reality for her.

"We needed to film one more sort of honeymoon scene and we went to the Virgin Islands. After that scene, my true final scene, I felt like I could shoot up into the night sky and every pore of my body would shoot light. I felt lighter than I've ever felt in my life.

Check out more of Kristen Stewart's interview at W Magazine.com or in the new issue, on newsstands now.