Kristen Stewart & Dakota Fanning Star As Rock Sisters In 'The Runaways'

New Moon has been big news for
Kristen Stewart
and
Dakota Fanning
, shattering box office records and expectations, even for the highly anticipated franchise. Eyes are turning next to their follow-up film, which happens to reunite them. "
The Runaways
" casts Stewart as rocker
Joan Jett
.
"I can only play characters that I feel like are real people and in a complete way and in such a whole way," Stewart said. "If I fake any aspect of it I will have failed them and literally they're slaughtered. It's like these characters, they don't exist anymore unless I do it. So in terms of approaching parts, thank God I don't have to do that. It just happens. Playing Joan Jett had nothing to do with Bella. It was a small period of time that I had to do it but it was an opportunity that I jumped on."
Fanning plays Cherie Currie, the lead vocalist for Jett's first band. "It was really great making "The Runaways" with her after "
New Moon
,"" Fanning said. "We became really good friends and really close throughout all the experiences we've had this year. I couldn't ask for a better person to do three movies in a row with than her. It was really good to know each other so we weren't complete strangers when doing The Runaways."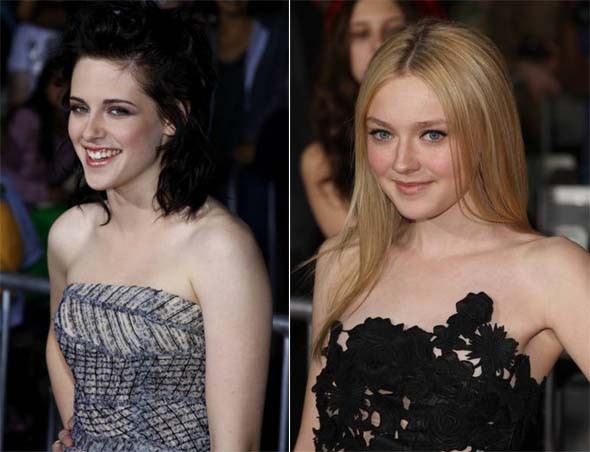 Image © PR Photos
The real Jett was involved with the film also, working closely with Stewart. "I got to know Joan not only as her now. I feel like through footage and just through the script and the story, everything, I feel like I got to know who she was in such a whole way that it's not about imitating even though I was really concerned about details being right, like gestures and stuff. I really wanted to do a good impersonation but I also didn't want it to be imitation. I wanted it to be natural."
"The Runaways" is out next year.
Story/Interview by
Fred Topel
Starpulse contributing writer
(Starpulse in Hollywood)
: Every week, Hollywood's biggest stars are meeting in the hot spots and Starpulse is there.