Kristen Stewart & Dakota Fanning In 40 Years ('Runaways' Premiere Pics!)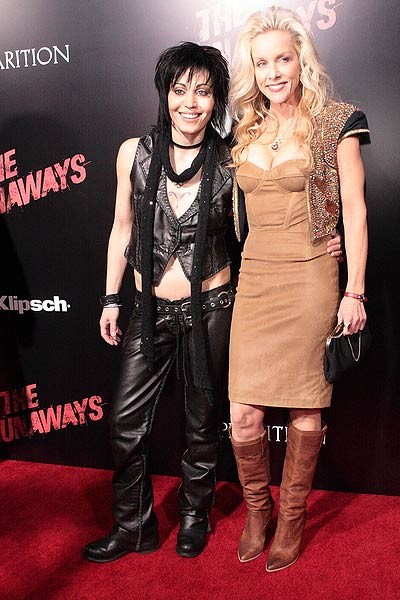 Bosum buddies Dakota Fanning and Kristen Stewart showed up at "The Runaways" Los Angeles premiere yesterday rocking the red carpet. Kristen slicked back her bangs and wore a short pink dress, while Dakota donned a strapless sequined silver ensemble.

The film centers on the groundbreaking '70s female rock group the Runaways, focusing on the duo of guitarist/vocalist Joan Jett (portrayed by "Twilight's" Kristen Stewart) and lead vocalist/keyboardist Cherie Currie (Dakota Fanning) as they navigate a rocky road of touring and record label woes under the malevolent eye of an abusive manager during their teen years.

Kristen was banned from "groping" Dakota during their onscreen kiss because her co-star was just 15 when they shot the steamy scene. Kristen told Access Hollywood, "I'm actually not kidding, there are major restrictions that I don't remember (from) when I was younger. I don't want to give anything way.
It's a really passionate, hardcore scene."

Dakota had no problems vamping it up for the lesbian scene and admits she quite enjoyed filming the controversial scene with co-star after reading about it in Cherie Currie's autobiography. Fanning told V magazine, "I really enjoyed doing that subject matter for the first time in a biopic, because it really happened - it's not just a made-up story about a 15-year-old kid running wild. It's a true story of her evolution from good Valley Girl to bad rock n' roll princess."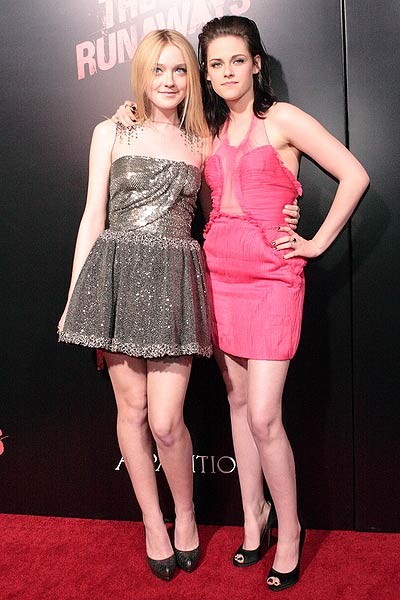 ^ click for next image ^


Click the pics for larger images: