Kristen Johnston: 'I Think Wrinkles Are Hot'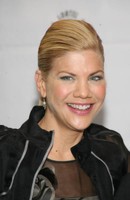 Actress Kristen Johnston had Botox injected in her forehead because an overdeveloped muscle constantly made her look "enraged".

The 3rd Rock from the Sun star had the procedure to correct the problem but insists she's now done with cosmetic surgery because she thinks it's sexy to age naturally.

She says, "I've had one shot. That's it. Because I actually have a muscle right here that overdevelops. I think wrinkles are hot.

"I think they are sexy, I mean, not like big, deep grooves. I love laugh lines. Anyway, I (only) got that done because it makes me look enraged."