Kristen Bell Won't Get Married Until All Her Gay Friends Can Too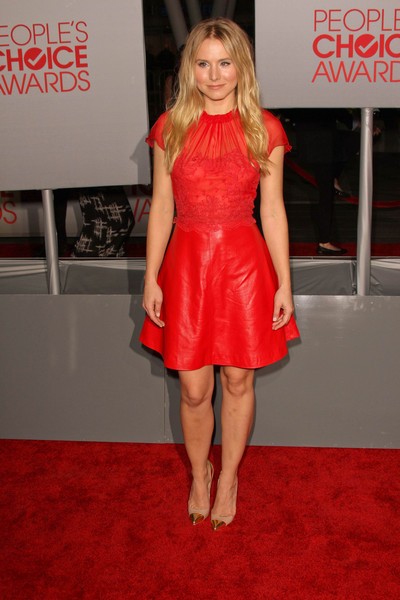 In the new issue of The Advocate "House of Lies" star Kristen Bell talks about her close friendship with Zachary Quinto, the real reason she's so hesitant to marry her longtime fiancé, and more.
On how marriage inequality has stalled her plans to marry fiancé Dax Shepard:
I get a ton of questions about when Dax and I are getting married. I usually blow them off because it's nobody's business. To be honest with you — and this is the first time I've ever said this to a journalist, but it feels like the perfect time and place — the reason we're not rushing to get married is because I don't feel appropriate taking advantage of a right that's denied to my best friends. That's why we've been so hesitant. Dax and I have talked about it a lot, and this issue is very important to both of us. We're just standing up for what we believe in. Period.
On gay actors in Hollywood:
If you feel more comfortable living a private lifestyle, then that's your right. I know it can be terrifying, so I don't fault anyone who isn't ready to come out. But if you're a person in the spotlight, I do think it's of paramount importance that you realize how much good you could do for people who look up to you ... If I struggled with an issue like this, I hope that I would be able to set that kind of example, because I'd want someone to set that example for me.
On the coming-out of longtime friend Zachary Quinto:
Zach came out when he was ready, he did it for his own very specific reasons, and I'm wildly proud of him. ... He didn't come to me for counsel about that, but Zachary needs no encouragement from anyone. He has known exactly who he is since the day I met him. ... Zach has always been sexy to me, even though I knew he was never interested in me. It doesn't make him any less sexy, onscreen or off.
On the cult camp appeal of Burlesque:
I love that it's become a guilty pleasure, especially among gay people. Of course, Christina Aguilera and Cher are also very vocal in their support of the gay community, so we're all over the moon that they've celebrated the movie. Truth be told, it was really a love letter to the gay community in many ways.
On thinking she might walk away from Burlesque as a lesbian:
Well, the women on that film were just so beautiful. Thank God for Dax Shepard. Unfortunately for all the women in America, he's the most charming, adorable human walking the planet, so I couldn't make the switch.
On the true identity of Gossip Girl, whom Bell voices:
I would love it if Gossip Girl were a gay man — or a drag queen! ... I'm actually going to suggest that as soon as possible.
Read the full interview here:
http://www.advocate.com/Print_Issue/Spectator/Kristen_Bell_Saved_By_the_Bell/