Kristen Bell Talks About Her Love Of 'America's Funniest Home Videos,' 'Pizza Eggs,' & 'Garbage Disposal' Salads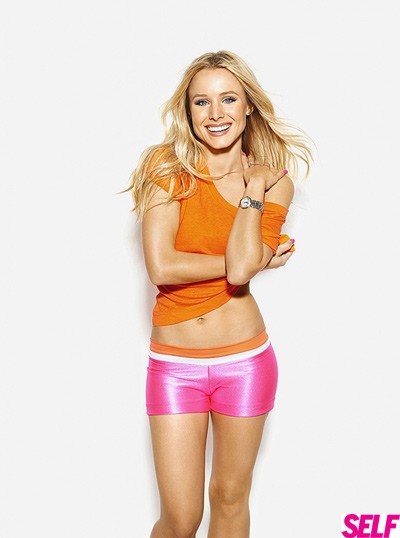 Kristen Bell is a big fan of cooking. She's also fond of being lazy and putting things off to surf the 'net or watch "the greatest show on television."

The House of Lies star recently revealed in an interview with Self Magazine readers (via Twitter) that she's a huge fan of America's Funniest Home Videos. But she's not that proud of watching it.

When asked which of her habits she is proudest of, she says, "I'm proud of my patience. I've worked really hard to curb my natural impatience by realizing that everyone is doing the best they can."

But her bad habits are a bit off-putting - or should we say 'putting off.'
She tells SELF readers, "I'm least proud of my ability to be lazy and procrastinate by spending time on my computer or in front of the TV, watching America's Funniest Home Videos, the greatest show on television.

"To anybody who pooh-poohs it, I say, 'Just give it 30 minutes.'"

The Detroit native & almost life-long vegetarian also shares her passion for cooking.

"I love to cook," she says. "I have a tiny Italian grandmother inside me. If someone walks in, I'm like, 'Let me make you a sandwich!'"

Bell, a vegetarian since she was 11-years-old ("because I couldn't understand why if we didn't eat the dog I should eat a burger"), explains that leftover pizza makes the best breakfast.

I scrape the toppings into egg whites," she says. "Pizza eggs are better than you can imagine!"

And while lunch consists of a "big salad and a veggie burger," she prefers multi-course dinners.

"Last night, I made brussels sprouts baked with balsamic vinegar, grapes and walnuts; butternut squash ravioli; and a 'garbage disposal' salad - which is everything in the veggie and fruit drawers: lentils, spinach, romaine, blueberries, cucumbers, raspberries, almonds, carrots and avocado. Literally anything. You don't even need a dressing because there are so many tastes."

What about her sweet tooth?

"Salted chocolate drives me wild," she says.

Check out more of Kristen's interview & more pics in the new issue of SELF magazine, on newsstands now; or visit SELF.com.