Kristen Bell Pokes Fun At Tattooed Celebs In New Video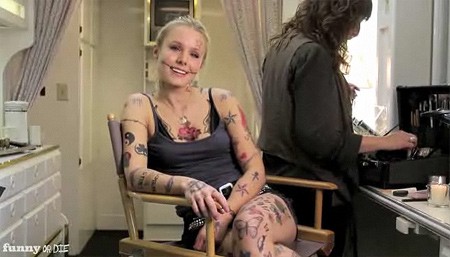 You may think that Kristen Bell is the goody-goody, girl-next-door type, but you haven't seen the "real" Kristen until you've watched this behind-the-scenes video of the star getting ready for a busy day of work.
The Kristen you don't know has 214 "professional tattoos," and she's done nine herself, the House of Lies star explains in the video.

Actually, in Funny Or Die.com's latest exclusive video the star of the new Showtime series pokes fun at all those stars out there with lots of ink to cover up when getting into character (We're looking at you Angelina Jolie and Megan Fox).

Kristen explains the inspiration behind each one of her pieces of body art in the video below (there's a few instances of racy language but it's SFW) and gives the details on just how long one of her work days can be...