Kristen Bell: Beautiful Star & Geek Icon

Kristen Bell
is more than just a perky blonde actress. This 27-year-old Michigan native may be rising in the mainstream entertainment world, but to geeks everywhere, Bell is royalty. So where did she come from and where is she going? Allow us to enlighten you on the career of Ms. Kristen Bell.
On Broadway
Growing up in the Midwest, Kristen Bell was involved in theater productions throughout high school with roles is "The Wizard of Oz" and "Fiddler on the Roof." After graduating from High School, Bell moved to New York for college where she would eventually land a role in the Broadway musical "The Adventures of Tom Sawyer." Her theater work would continue with a role in "The Crucible," which costarred
Liam Neeson
and
Laura Linney
.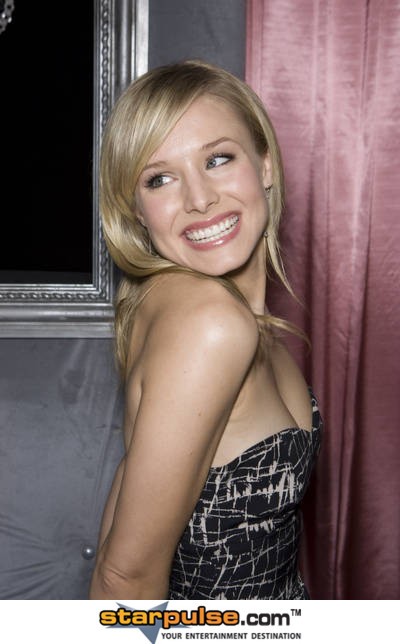 2004 saw Bell play a lead role in "Reefer Madness," a musical based on the
cult classic propaganda film
of the same name. She played the role of Mary Lane, an innocent God fearing gal who whose first experience with marijuana has some of the most insane consequences imaginable. The musical would be
adapted for television
the next year with Bell reprising her role.
Miss Mars of Neptune
During 2004, Kristen's name suddenly appeared on a list of rising stars thanks to her starring role in
Veronica Mars
, a high school detective show that mixed modern California with the mysteries of classic noir films. "Veronica Mars" was thought to be the successor to the
Buffy The Vampire Slayer
, though it would only last three seasons. Rumors circulated of a possible fourth season in which Mars would be entering her first year at the FBI, but the CW cancelled the series after a mini pilot had been filmed. While only a blip on the television radar, Bell made a name for herself and would see her film and television career continue.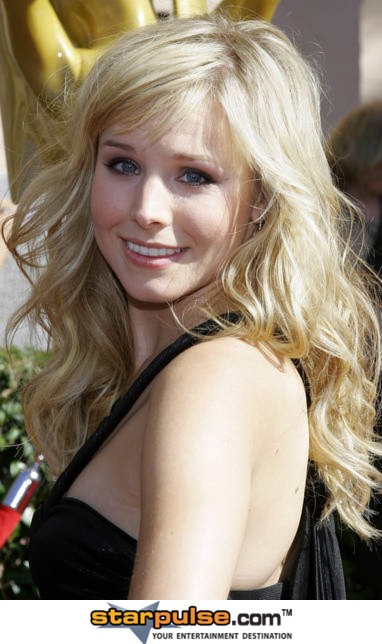 Taking a Break from Solving Mysteries
During her breaks from "Veronica Mars," Bell appeared in several big-screen works. In 2004 she portrayed the president's kidnapped daughter in the film
Roman
costarring
Val Kilmer
. She would follow that up with roles in 2006's
Fifty Pills
, a dark comedy in which she played the object of the lead character's affection. 2006 also saw her jumping on the Japanese horror remake bandwagon as the lead in
Pulse
, in which technology and the supernatural mix. The movie was not her biggest success.
Post Veronica
While the cancellation of "Veronica Mars" was a blow for fans, they did not have to wait too long for the actress to make her way back to television. While she had been up for a role on
Lost
, Kristen turned it down in order to play the villainous Elle on NBC's
Heroes
where she is able to control electricity. A definite change of pace from her previous roles, her character Elle is set to appear in at least 13 episodes of the show, although the writers' strike has affected when those episodes will air. Fans of the CW's
Gossip Girl
can listen to Bell as the voice of the titular character.
Those who picked up Assassin's Creed this past winter were likely surprised to see Kristen Bell's voice and likeness in the blockbuster game. While not a playable character, Bell portrays Lucy, who is integral to the overall story arc. Her work in the game has added to her geek cred, and her future roles will only cement her place as a geek icon.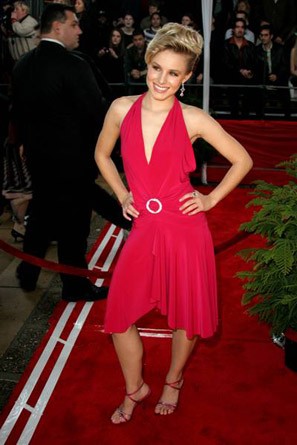 A Long Time Ago in a Galaxy Far Away
This year will see Bell playing in two movies that appeal to everyone's inner nerd. She will play the title character in
Forgetting Sarah Marshall
(April 18), a comedy by
Judd Apatow
of
40 Year-Old-Virgin
and
Knocked Up
fame. Even more exciting is her role in
Fanboys
, in which she plays one of a group of friends who in 1997 plan to steal a copy of
The Phantom Menace
. Bell appears in the iconic gold bikini, which may be enough to draw many fans into theaters. Recently it has also been announced that Bell will star in the romantic comedy "When in Rome." She has also expressed interest in returning to the stage, where she began her career.
At a relatively young age Kristen Bell has carved a niche for herself in films and television as a sarcastic but smart personality. While she may be unknown to much of America, those who know her are aware that she will only become a bigger star as time goes on. Comfortable on the small and big screen as well as on stage, and known more for her roles than for her personal life, Bell looks to be on a better path than many of her peers. This writer believes that in five years time, Kristen Bell will be a household name.
Story by
Dan Chruscinski
Starpulse contributing writer

-
Be sure to visit Starpulse's Oscars Page, where you can learn more about the nominated films and take one of the five Oscar polls, including your Oscar picks!