Kris Jenner Has Facelift For TV Wedding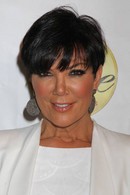 Kim Kardashian's mother has undergone a facelift prior to her daughter's star-studded wedding to fiancé Kris Humphries.

The socialite became engaged to the New Jersey Nets basketball player in May after a six-month romance and they plan to exchange vows this summer.

Kardashian is busy organizing the nuptials, which are set to air on a special show for E!, and her mom Kris Jenner has been busy preparing for the big day too - with a cosmetic procedure.

Her daughter Khloe Kardashian tells the New York Daily News, "She looks amazing. They say you are supposed to have a lot of swelling for a week or so after, but I didn't notice."

And Jenner is also helping Kim organize the wedding, according to Khloe: "My mom loves being involved, but Kim needs it. I've seen how much my mom has been doing. Kim should be kissing the ground my mom walks on."