Kris Humphries To Sue Kim Kardashian For Millions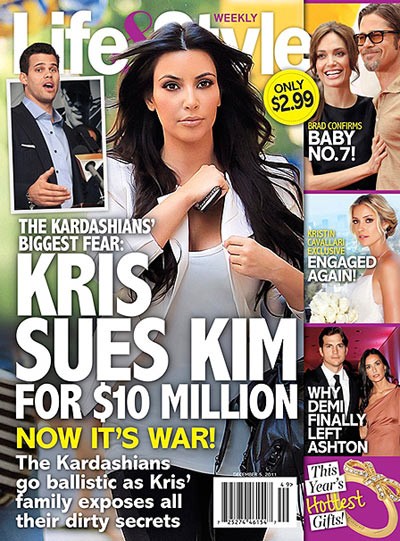 Kim Kardashian's estranged husband Kris Humphries is planning on suing the socialite to the tune of $10 million over his role on Kim and sister Kourtney's reality show, Kourtney and Kim Take New York.

An insider tells Life & Style magazine that "Kris has a legal team investigating his options," and has met with lawyers to explore his options.

"He's claiming his role on Kourtney & Kim Take New York is bigger than he was told, and that's why he wants more money," says the source. "But Kris is also suing because he's really worried about how badly he's going to be portrayed on the series."

Humphries is mostly concerned about his 'good boy' image and is trying to keep producers of the show to keep certain incidents involving reported bad behavior - scheduled to air mid-season - from being broadcast.

One incident involved Kim's long-time best friend Jonathan Cheban, who Kris reportedly bullied and grilled over his sexuality.

Another source tells Us Weekly that Kris called Kim names and belittled her in front of other people and spent most of his time out partying without her.

"He'd call her stupid. It was truly sickening. He tried to control Kim by bringing her down," says a family insider. "He would say truly terrible things. One time, he said she had no talent and her fame wouldn't last."

Humphries also reportedly called her "fat ass"and even told some of his friends that her "butt is fake."

The NBA player even spent time in Miami without Kim and let "random girls" give him lap-dances and cozy up with him.

Since she filed for divorce on Oct. 31, Kim has been trashed by the public and accused of staging her wedding as a publicity stunt to make money and spike ratings (she says she didn't).
She's also been a new target of PETA for wearing fur; and the subject of an internet petition to get her family's shows taken off the air. Movie director Tyler Perry even came under fire for casting her in his next film.

In recent weeks Kim has reportedly been "distraught" over all the backlash and has been keeping out of the public spotlight to "figure her life out." She even jetted off to Australia for a handbag launch, which seemed to coincide with the divorce news - perhaps to get her away from the media firestorm that ensued.

But maybe Kim isn't the 'bad-guy' after all...